Christyn Dolotina Achieves Blue Diamond Rank At Valentus
January 1, 2020
By Team Business For Home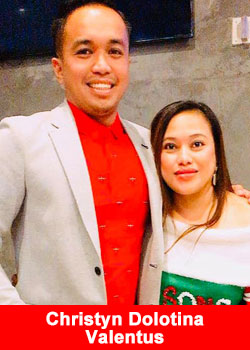 Christyn Dolotina Cal  stated upon her achievement:
In all honesty, I've got no knack for selling. My knees would shake every time I got rejection with the products I was endorsing. But who would have thought that my stocks for coffee would fly off the shelves as fast as selling candies to toddlers? The irony there is, the income just keeps on flowing even without me selling them in any store.
We are a typical family of nine siblings. Unfortunately, we lost the head of the family, my venerable father, when I was just 13. With such a large family with large, incessant needs, and growing up with our hardworking mother as the only parent left, it made me push myself to Dream BIG. Yes, our life was the characteristic, poor and struggling Filipino family.
I am such a dreamer. I dream big. We call it "ambisyosa" in the Philippines. Some people associate it with a negative connotation, and yet I am proud to say that I am "ambisyosa". This state of mind became the foundation upon which my persistent, almost elusive dreams marvelously metamorphosed into a spectacular reality.
I arrived in the USA experiencing the lowest part of my life to the poignant point where I can no longer distinguish my tears from what went out from my nose! Hardships seemed to pile block after block. Life is indeed a roller coaster ride.
Yet, I fought. I fought hard. Things will fall if we allow them to fall. I did not let that situation ruin my goals.
What really brought me into this Coffee Business?
Actually, this was never planned. Not even in my dreams, as I have said, selling nor marketing is not in my genes.
I've used all sorts of weight loss programs spending $600 to $800 a month, yet none of them gave satisfying results. The struggle went on, to the point that I even got hospitalized as my cholesterol, blood pressure and sugar level all went beyond the charts.
Without any forethought, we visited a friend of ours in her hometown October of 2018 and got introduced to this organic coffee, as they said. Just like all the other products I used in the past, I took the chance to try it. Surprisingly, in just 8 weeks, I lost 25 pounds!!! Who wouldn't be amazed? The weighing scale which never had gone down for five years had finally moved!
How did my earning surge? I did not sell the coffee. I just used the product and shared such discovery to the people I love, while those people I shared with in return shared to the people they love and so on and so on.
This is really how it works. Sip and Share! It is a culture of sharing and friendship that brings out the best in this business. At the liberty of my office, my sala, my kitchen, our bedroom or even at the beach during our family outings, I sip and share.
I would like to express my gratitude to our Tree Leader Dr. Chi, my upline's upline, the only Female Royal Diamond Ms. Jen Melendez; my best buddy who introduced the coffee to me, Blue  Diamond Ms. Rhealou; my husband who is also a Double Diamond himself, Daryle and of course to my IRs who have been very instrumental to where I am today, who believed in me, the products and the opportunity Valentus can give, A BIG BIG THANK YOU to all of you.
Rejection and pitfalls are really part of any business, but if I have achieved these heights, you can too! Don't let the negativity of this world ruin what God has in store for you. Speak Victory over your life and you will be Victorious!
About Valentus
In Latin, the word "Valentus" means "prevail," defined as proving to be superior in strength, power, and influence. Recognizing that, we couldn't have picked a more fitting name for a company that strives to be the example in an industry that deserves a leader to follow.
Since day one, our focus, our passion, and our commitment have been to create a company, a product line, and an opportunity built on a foundation of integrity.
From creating significant levels of income, to building strong networks, healthy long-lasting relationships, making new friends, participating in activities you never even knew existed, having the time to do the things you love with the people you love to be with, VALENTUS can help you PREVAIL in ALL of your goals! For more information please visit www.valentus.com
Recommended Distributors Valentus