Darryl Drake Returns To TLC, Hits National Director Rank (Again)
January 29, 2020
By Nicole Dunkley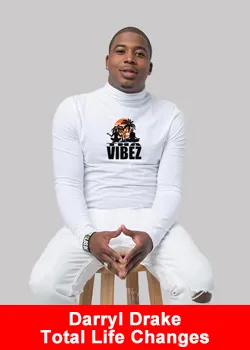 Darryl Drake is not your average direct sales entrepreneur. He initially joined Total Life Changes (TLC) in November of 2014 when he was trying to increase his income while looking for something different than other direct sales companies.
Darryl emphasizes the affordability of TLC's products and says they can stand alone, unlike network marketing products that he had come across before.
Darryl's sponsor is the #1 Voted Female Network Marketer Stormy Wellington, and he initially had met her, Jack Fallon, and John Licari in Atlanta, GA. He said that their collective energy is what drew him in. Darryl reached the Global Director Rank in 2014 and was the first Global Director within Stormy Wellington's 1000 Families initiative.
Darryl went through a tough time in his life and took a break from TLC in 2018 to deal with personal hardships. He emphasized his struggle is something that affects many people, and it should be discussed more:
"At the top of my career, I was the youngest highest-grossing representative in TLC. I was on two or three different tours; I was constantly building my brand everywhere. Nobody teaches you how to deal with all that stuff, like the stress. So, I fell into a depression and developed an addiction to opioids. I must share that; it's part of my story. I know I'm not the only one. I stayed like that for some time, and when I decided to take my life back, I used CBD to get off opioids. CBD was my path to freedom."
Darryl started studying the science behind CBD and how it impacts the endocannabinoid system. TLC released an instant formula of its best-selling Iaso® Tea infused with full-spectrum hemp extract delivering about 10mg of CBD per serving. After consuming it consistently, he was instantly aware of how powerful it can be, and was one hundred percent dedicated to selling it, and informing others about its effects.
Darryl stated that coming back to TLC was refreshing because the products were more diverse, and the communication amongst leadership was stronger than when he left, which makes the company stronger as a whole.
"I sat with (Founder & CEO) Jack and John (COO) again at corporate, it was go-time. I just felt inside of me that I needed to make a list of everybody that I had spoken to the first time from 2014, to let them know that I'm about to launch. I believe that now we are on track to be a billion-dollar company. I want to be a part of that."
He emphasizes that coming back to TLC was a no-brainer:
"I love the fact that there is integrity in the company. You never really know if a company has integrity until they have to prove it. Long story short, I never lost connection, Jack and John were always there. It was just important that they understood that I didn't stop doing TLC. I just needed to get myself together. They stayed loyal to me, even though I wasn't there."
Darryl says that his whole family is excited about TLC now, and even his mother, uncle, and father have joined TLC. His family gives him support and encouragement to keep going and helping others lead a healthier lifestyle with an opportunity to earn a supplemental income. He says his "why" applies to more than just TLC; it encompasses his whole life.
"I believe everything I do is an extension of me. I feel like my purpose on this planet is to be connected to people, helping them improve their health and support their efforts toward earning additional income. I honestly do not know a better way of doing that than in the industry of direct sales."
About Total Life Changes
Total Life Changes (TLC) is a direct selling company offering a diverse product portfolio of health and wellness products. Founder and Chief Executive Officer Jack Fallon created TLC 16 years ago with a single product: NutraBurst®. Since that time, TLC has continued to develop weight loss and wellness products matched with an attractive hybrid binary compensation plan allowing Life Changers (representatives) of TLC to be rewarded quickly for introducing new customers to its products and business opportunity. Find out why so many are saying, 'It really is different over here.'