doTerra Donation Of $5 Million For Oncology Center, Gets Social Media Criticism
January 27, 2020
By Team Business For Home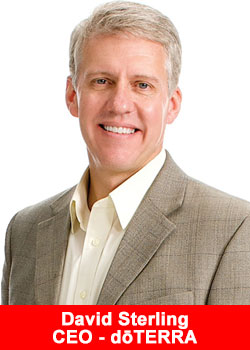 In accepting a $5 million gift from doTerra that sells essential oils, St. Elizabeth Healthcare announced that it aims to explore untraditional therapies at its new cancer center. But social media commenters accuse the Edgewood system of selling out to a multilevel marketing firm.
This month, dozens of Reddit, Twitter and YouTube participants raised an online clamor over the $5 million gift, the biggest ever to St. Elizabeth's foundation, from doTerra, a Pleasant Grove, Utah, firm that calls itself the world's largest producer and vendor of essential oils.
In revealing the gift in October, St. Elizabeth officials also announced that the first floor of its five-story cancer center, set to open in August, will be named the doTerra Center for Integrative Oncology.
The center's director, oncologist Douglas Flora, said he is perplexed at the blow-back to adding aromatherapy to other options at the center, including yoga, massage therapy and acupuncture.
What are essential oils?
Essential oils are compounds extracted from plants. People can eat the oils, mix them into drinks, apply them to the skin or add them to infusers to release the aroma. DoTerra advertises that adding essential oils to daily regimens promotes overall wellness.
Patients, Flora said, already are seeking other methods of dealing with the pain, insomnia and other side effects of cancer treatment, including essential oils. In the new cancer center, patients can try those methods under doctor supervision.
"There are things that merit further investigation that may yield promise," Flora said. "We want to accommodate those into our patient-care activities once the data is sufficient. It doesn't mean that we would be substituting any of these measures that we use now. … We're not going to let anything that harms our patients into our building."
Dr. Russell Osguthorpe, doTerra's chief medical officer, said the company has expanded research into its products. He said no less an institution than the National Cancer Institute is looking at essential oils, among other therapies.
"DoTerra is putting our resources in support of these sorts of initiatives," he said. "We want to support a place where patients can use an evidence-based approach under the guidance of world-renowned cancer physicians at St. Elizabeth.
"We're not selling anything in that space at all, quite the opposite. We agreed early on, we would not sell in that space. It's a place of healing, not a place of business."
Social media commenters say advertised benefits of essential oils are exaggerated. The U.S. Food and Drug Administration has not approved essential oils to treat any medical condition.
In September 2014, the FDA sent doTerra a warning that some salespeople, who doTerra calls "wellness advocates," were telling customers that essential oils could treat or cure conditions including the Ebola virus.
Osguthorpe and other doTerra officials say the company has worked with the FDA since then to correct sales language and train wellness advocates to steer clear of explicit promises. The FDA has taken no further action since the 2014 letter.
The social-media objections to the arrangement also say St. Elizabeth is giving doTerra access to patients for potential sales recruitment.
The company is a multilevel marketer, which encourages distributors to bring on new salespeople, who then pay distributors a percentage of sales. Flora said doTerra will not be recruiting salespeople at the center or selling its product there.
Jeff Holiday of Eugene, Oregon, produces YouTube videos full-time about pseudoscience and alternative medicine. On Jan. 9, he made a 23-minute video to lash St. Elizabeth for collaborating with doTerra.
"When you have somebody who is in a vulnerable situation, like going in for cancer treatment, not only vulnerable to secondary responses or stress responses but also vulnerable to desperation, you have a lure for anybody who is a snake-oil salesman," he said. "The very concept of something that is anti-medicine contributing $5 million should be raising extreme amounts of concern."
Other contributions
DoTerra has funded research at Roseman University of Health Sciences in Nevada to study essential oils. In 2018, doTerra donated $5 million to the Huntsman Cancer Foundation in Salt Lake City for the expansion of the cancer hospital at the University of Utah, including its Wellness and Integrative Health Center.
Flora said he has seen the consequences of misusing non-mainstream treatments. He was caring for a young breast-cancer patient with the powerful drug tamoxifen to prevent a recurrence. But without telling Flora, the patient also took St. John's wort, an herb that some people believe eases depression. But the two drugs do not work well together and, Flora said, "We lost her."
Last summer, Flora said, a former patient approached him about essential oils. Nicole Chase, a doTerra wellness advocate, told him about her experience, and Flora expressed interest in learning more.
Osguthorpe and other doTerra officials then flew to Northern Kentucky to meet Flora and see the cancer center under construction. Flora said he was impressed with their desire to put the rigors of science behind its products.
"No company in that field has really devoted resources like a typical pharmaceutical company to research," he said.
Expansion of cancer care
Cancer care in the Cincinnati region is growing because the incidence of lung, breast, colon and other cancers is among the highest in the nation – "ground zero," as Flora calls it. Kentucky is No. 1 in the nation for lung-cancer deaths.
UC Health, the University of Cincinnati and Cincinnati Children's Hospital Medical Center collaborate on the UC Cancer Center. This month, the TriHealth system cut the ribbon on its new dedicated building in Montgomery.
St. Elizabeth's center will be 250,000 square feet and will offer the mainstream treatments of chemotherapy and radiation. The 8,400 square feet of the first floor that will become the doTerra Center for Integrative Oncology.
Flora said that perhaps one half of one day a week, patients can try aromatherapy with doTerra essential oils. All additional therapies will be supervised and monitored by a medical doctor specializing in integrative care, who Flora is in the process of hiring.
Integrative medicine is growing in popularity. The National Institutes of Health has a wing called the National Center for Complementary and Integrative Health. The University of Cincinnati College of Medicine hosts the Center for Integrative Health and Wellness.
Himself a cancer patient, Flora said he has found that using lavender oil has improved his sleep. "My personal belief, as a cancer provider, is that we're poorly educated about these things. My feeling is that if we built something like this, and bring a trained medical doctor to supervise this, our level of expertise will go up."
As reported by Eu.cincinnati.com
About doTERRA
doTERRA® is an integrative health and wellness company and the world leader in the Global Aromatherapy and Essential Oils market. doTERRA sources, tests, manufactures and distributes CPTG Certified Pure Therapeutic Grade® essential oils and essential oil products to over seven million doTERRA Wellness Advocates and customers.
Through industry leading responsible sourcing practices, doTERRA maintains the highest levels of quality, purity and sustainability in partnership with local growers around the world through Co-Impact Sourcing®.
The doTERRA Healing Hands™ offers resources and tools to global sourcing communities and charitable organizations for self-reliance, healthcare, education, sanitation, and the fight against human trafficking. Through the life-enhancing benefits of essential oils, doTERRA is changing the world one drop, one person, one community at a time. To learn more, visit www.doterra.com.