Dr. Dana McGrady Joins MyDailyChoice And Achieves 25K Affiliate Rank In Her First 10 Days
January 28, 2020
By Team Business For Home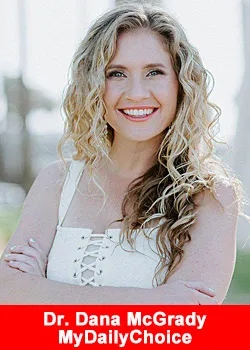 Dr. Dana McGrady, also known as the Magnetic Soulpreneur, is a Doctor of Oriental Medicine and Top Network Marketing leader.
She is a magnetic coach, mentor, author, mama of three little ones, and has 2 clinic locations in Florida. She launched her first book, Magnetic Soulpreneur published by Networking Times Magazine and is working on her next book.
Dr. Dana McGrady has been leading the way training on stages at Network Marketing events like ANMP, Impact and Growth Summit, John C. Maxwell Network Marketing Event, and most recently at Rank Maker's Live.
She has also done many keynote speeches at company conventions in the past few years.
"We welcome Dana with open arms and support for her and her team. We are proud to align ourselves with top female leadership who are not afraid to rise to the top and impact the masses",
says Jenna Zwagil Co-Founder of HempWorx. After making the move to MyDailyChoice, Dr. Dana has already achieved the rank of 25K Affiliate in her first 10 days.
With her eyes set on building a global business, she plans to rise to the top of the company.
"I am so excited to be in a company with unique products, an unmatched compensation plan, and a marketing system that can help my team with internet marketing.

This wasn't an easy decision but I knew in order to build a global business in the health and wellness space, this was the move I needed to make",
says Dana.
Dr. Dana believes in:
✔ Chasing your dreams
✔ Cheering on all network marketers
✔ Raising our profession with love
✔ Trusting your gut
✔ Making courageous decisions
✔ Empowering everyone you connect with
About MyDailyChoice
At MyDailyChoice, we are 100% committed to providing our independent business owners and customers with the most attractive and highest quality product lines within top-trending industries.
Our mission is to empower families around the world through good health, financial opportunities and the smart daily choices that can deliver both. That is why we provide an unprecedented compensation plan and a unique and innovative line of products made with the highest quality CBD oil, grown and manufactured right here in the US.
MyDailyChoice was founded in 2014, merged with HempWorx in 2017, and is currently headquartered in Las Vegas, NV. Under the leadership of Founders Josh and Jenna Zwagil, MDC reached $100 million in sales in 2018. For more information please visit www.mydailychoice.com
The are no guarantees regarding the income from the MyDailyChoice/HempWorx opportunity. The success or failure of each Affiliate, like in any other business, depends upon each Affiliate's skillset and personal effort.
Earning levels for Independent Affiliates are examples and should not be construed as typical or average. Income level achievements are dependent upon the individual Affiliates business skills, personal ambition, time, commitment, activity and demographic factors. To view the MyDailyChoice Income Disclosure Statement, click here.