Interview With Top Leader Joseph Lim From The Philippines
January 25, 2020
By Team Business For Home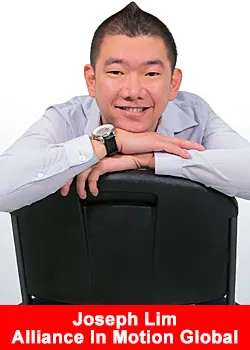 Piotr Przybylak is editor in chief of rankingmlm.com a network marketing portal based in Poland. We got permission from RankingMLM to re-publish this in-depth interview with Jospeh Lim.
Joseph is an amazing leader straight from the Philippines, where, despite his young age, 'The CEO in Jeans', has almost legendary status. Jospeh was elected as the top Leader 2019 in the recent Business For Home Poll.
Thanks to his life and business experience, Joseph Lim is more than just a brilliant entrepreneur. He is a brand. He is an institution.
WELCOME JOSEPH LIM! LET'S JUMP IN AND GET TO KNOW YOU AND YOUR STORY BETTER. HOW DID YOU START YOUR BUSINESS ADVENTURE?
I started venturing into business as young as I was in High School I used to lend money then. Until I discovered MLM when I was in college and it blew my mind with its potential. I've been doing MLM ever since.
WHAT SHAPED YOU EXACTLY IN LIFE? WHAT SHAPED YOU AS AN ENTREPRENEUR AND A HUMAN BEING? I MEAN, MAYBE SOME PEOPLE OR SOME EVENTS FROM YOUR PAST?
When I enlisted in the required military training back in college (it's called ROTC in my country). I was taught how to find ways no matter what and of course since it is military training you are taught to follow orders and really be disciplined. Also, I was a big PC gamer way back (maybe even now). Those games taught me that I should always level up. Plus, I've always been very competitive. I always see myself winning and I think it has carried me on till now.
HOW MUCH TIME DID YOU NEED TO SUCCEED IN MLM? WHAT STRATEGIES DID YOU USE?
When I was starting out I barely slept. It's just really work ethic. Nothing magical or special. We used to have a saying back then: 'Wake up early. Go home late and network like crazy'. I just took it really seriously. The skills needed came along the way, so to speak. The more you do it the better you become. I never really took notice of how long it took I just worked and gave 101%. I guess my drive was just really insane.
WHAT IS YOUR SECRET OF SOLVING PROBLEMS? LET'S SAY GENERALLY SPEAKING AND ALSO IN THE MLM BUSINESS WORLD?
I think it's not really a secret, it's common sense rather. Problems are meant to be faced head on, there's no beating around the bush with it. Either you face it or don't solve it at all. How do you face a problem? Do something about it. You don't like the place you're living in?. Then leave! If you aren't satisfied with what you're earning then look for something to add to your income or much better, look for a better opportunity. It's as simple as that. In the MLM business world it's even simpler. If your prospect don't want to sign up then look for someone else who would.
'WORK SMART, NOT HARD'. WOULD YOU AGREE WITH THIS SENTENCE?
A hundred percent! Although I still think working hard matters. So working hard by being smart is what I really believe in. A simple analogy would be using a vehicle. If you work hard you can cover greater distances, since you have a vehicle you can do it faster.
HOW DO YOU RECRUIT PEOPLE? ANY 'SPECIAL MOVES'?
I usually start looking for questions that needs an answer. Because the moment you answer that question it opens up all the possibility of that person signing up with you. Of course, you have to establish your trust worthiness. Most people would sign up not just because they find your product or compensation plan great, but mainly because they trust you.
HOW WOULD YOU DESCRIBE AN EFFECTIVE LEADER?
An effective leader is one that knows the ways, shows the way and leads the way. Also an effective leader is someone who puts his people first.
PLEASE TELL US MORE ABOUT YOUR CURRENT COMPANY, ALLIANCE IN MOTION GLOBAL.
My company Alliance in Motion Global is a leading Multilevel Marketing and Direct Selling Company in Asia with over 5 million distributors across the globe. Founded on the principle of changing lives through its remarkable products, proven compensation plan and charitable programs. The company has been delivering its promise for more than a decade now, as the results speak for themselves. With extensive experience of network leaders, their innovative spirit and visionary leadership, its Board of Directors has taken AIM Global from a simple local organization to an international enterprise and major industry-player that has improved the lives of millions.
It leads the industry with its stable business model and international growth opportunities. Because of its exceptional growth and exemplary attributes in conducting business, it has been recognized by several award giving bodies from the MLM industry and business sector. AIM Global continuously innovates and improves to meet industry expectations and standard.
TO ME, AS A EUROPEAN, IS IT VERY INTERESTING TO INTERVIEW A NETWORK MARKETING LEADER FROM THE PHILIPPINES. HOW WOULD YOU DESCRIBE THE PHILIPPINE MLM MARKET?
It's still an ever growing market. A fertile green pasture if you will. MLM is pretty big in the Philippines.
YOU SAID ONCE: 'IT'S NOT TRUE THAT YOU DON'T HAVE MONEY. YOU JUST SPEND IT ON THINGS THAT AREN'T IMPORTANT'. CAN YOU ELABORATE ON THAT?
Well I said that once because some people don't like signing up with MLM because they think they don't have the money for it. But whenever there's a new iPhone they are able to purchase one. Between signing up with MLM and purchasing a new iPhone which do you think will bring you money? So most people aren't really penniless they just don't know how to spend their money wisely or rather invest their money wisely.
HOW HAS BEING INVOLVED IN NETWORK MARKETING CHANGED YOUR LIFE, PROFESSIONALLY, PERSONALLY OR BOTH?
To be honest I find no distinction between my personal and professional life. I never saw doing MLM as "work". It's like a lifelong vacation with my family for me and since I started very young the only comparison I have would be in terms of maturity in life. I've been doing MLM half of my life this is where I'm practically raised. MLM taught me a lot, like really A LOT. I've been doing MLM half of my life. So to say that it changed my life would almost be an understatement because truth be told MLM is my life.
LET'S END ON THIS NOTE. JOSEPH LIM, WHAT IS YOUR DEFINITION OF HAPPINESS?
Happiness is living with passion, happiness is seeing and helping other people fulfill their dreams. Happiness is finding peace no matter what the situation in life is.
ABOUT AIM GLOBAL
Founded by Network Marketing icons Raymond "John" Asperin, Engr. Francis Miguel and Dr. Eduardo Cabantog in 2006, Alliance In Motion Global (AIM GLOBAL) is the leading direct sales network marketing company in the Philippines. The company markets and distributes top of the line Nutraceutical supplements, weight loss wellness products, personal care and skincare products, functional beverages and premium lifestyle products.
The company is a proud member of MLMIA (Multi-Level Marketing International Association) in USA, founding member of Direct Selling Association in Pakistan (DSAP) and Direct Selling Education Institute (DSEI) of Dubai, UAE.
AIM Global has 130 business center offices in the Philippines and has global offices in 20 countries namely Hong Kong, Singapore, Taiwan, Brunei, Papua New Guinea, UAE, Bahrain, Kuwait, Pakistan, Nigeria, Ghana, Kenya, Uganda, Togo, Ivory Coast, Cameroon, Tanzania, Rwanda, and the Solomon Islands.
AIM Global is categorized as "+AAA" business opportunity, Top 100 Solid MLM Direct Sales Company 2018-2019, Top 10 Momentum Direct Selling Companies 2018-2019, Top Direct Selling CEO 2014-2019, Founder/Director/CEO and Visionary President Dr. Eduardo Cabantog as one of the Ambassadors of Network Marketing – Hall of Fame 2018 by Business For Home, top awardee in the Direct Sales category of Asia Pacific Entrepreneurship Awards 2017, winner at the International Innovation Award 2018 for its revolutionary Daily Payout System, and one of the awardees for Asia's Best Performing Companies at the 6th Asia Corporate Excellence and Sustainability (ACES) Awards 2019.