LifeVantage Introduces Free Shipping
January 15, 2020
By Team Business For Home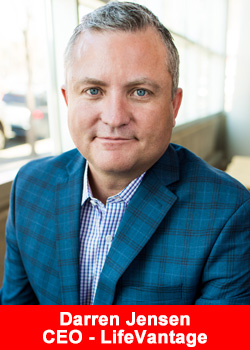 LifeVantage (Nasdaq:LFVN) rang in the new year and decade, in part, by formally launching several new initiatives, including free shipping.
LifeVantage President and CEO Darren Jensen says the company's introduction of free shipping, which went into effect in select markets Jan. 13, will provide incremental value to customers and further improve the consumer experience heading into the new year.
All subscription orders in the U.S. will receive free shipping moving forward. Additionally, any U.S. customers not on subscription will receive free shipping on orders of $100 or more.
Orders in Canada, Mexico, and European markets over a certain amount will also receive free shipping, with purchase thresholds varying by market.
Free shipping in other markets will be rolled out over the coming quarters.
About LifeVantage
LifeVantage Corporation (Nasdaq: LFVN) is a pioneer in Nutrigenomics – a new science dedicated to biohacking the human aging code.
The Company engages in the identification, research, development, and distribution of advanced nutrigenomic dietary supplements and skin and hair care products, including its scientifically-validated Protandim® product line, Omega+ and ProBio dietary supplements, its TrueScience® line of Nrf2-infused skin and hair care products, Petandim™ for Dogs, Axio® Smart Energy Drink mixes, and the PhysIQ™ Smart Weight Management System. LifeVantage was founded in 2003 and is headquartered in Salt Lake City, Utah. For more information, visit www.lifevantage.com.
Recommended Distributors LifeVantage