LifeVantage Rings Nasdaq Closing Bell As Part Of Its "Wellness Week"
January 10, 2020
By Team Business For Home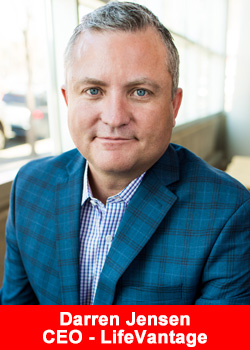 In conjunction with Nasdaq's annual "Wellness Week", LifeVantage Corporation (Nasdaq:LFVN) was selected to participate in the iconic Nasdaq Stock Market Closing Bell Ceremony at the close of Thursday's market.
The ceremony took place at the Nasdaq MarketSite in Times Square New York. LifeVantage CEO Darren Jensen, who rang the Closing Bell, was accompanied by the entire LifeVantage executive team, as well as the company's respective global market heads.
"It's an honor to help literally 'ring' in the new year and decade – particularly so on a healthy note – and we're grateful to Nasdaq for shining the spotlight on health and wellness issues at the top of each year for the past decade,"
said LifeVantage President and Chief Executive Officer Darren Jensen.
"Far too many of us take our health for granted and wait for a health setback before being compelled to take action.

One of the things we're passionate about as a health and wellness company specializing in biohacking is helping people flip the switch on their health proactively so they can feel better and do more for longer."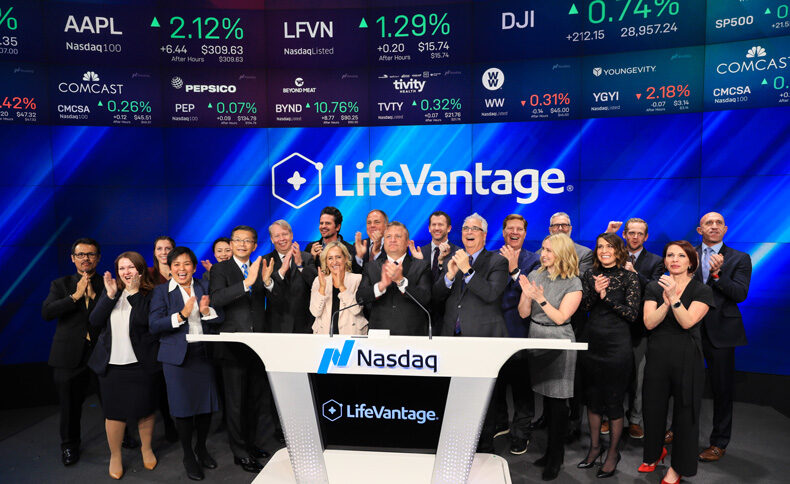 The company enters 2020 on the heels of posting its highest annual revenue in company history and earlier today announced preliminary revenue of $61 million for the second quarter of fiscal 2020, which represents the highest quarterly revenue in company history.
LifeVantage has been publicly traded on the Nasdaq Capital Market under its current ticker symbol "LFVN" since September 2012.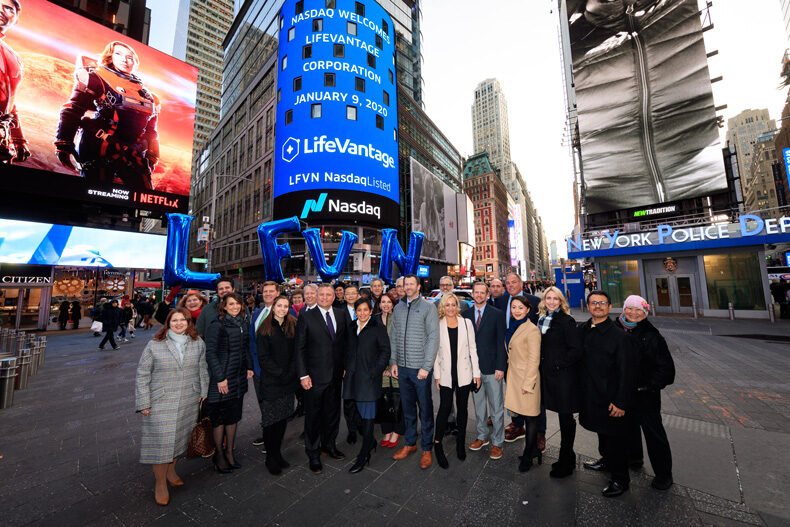 About LifeVantage
LifeVantage Corporation (Nasdaq: LFVN) is a pioneer in Nutrigenomics – a new science dedicated to biohacking the human aging code. The Company engages in the identification, research, development, and distribution of advanced nutrigenomic dietary supplements and skin and hair care products, including its scientifically-validated Protandim® product line, Omega+ and ProBio dietary supplements, its TrueScience® line of Nrf2-infused skin and hair care products, Petandim™ for Dogs, Axio® Smart Energy Drink mixes, and the PhysIQ™ Smart Weight Management System.
LifeVantage was founded in 2003 and is headquartered in Salt Lake City, Utah. For more information, visit www.lifevantage.com.
About Nasdaq
Nasdaq (Nasdaq: NDAQ) is a global technology company serving the capital markets and other industries. Our diverse offering of data, analytics, software and services enables clients to optimize and execute their business vision with confidence. To learn more about the company, technology solutions and career opportunities, visit us on LinkedIn, on Twitter @Nasdaq, or at www.nasdaq.com.
Recommended Distributors LifeVantage