Mae Friah Kwai Querol From The Philippines Achieves Triple Diamond Rank At Valentus
January 9, 2020
By Team Business For Home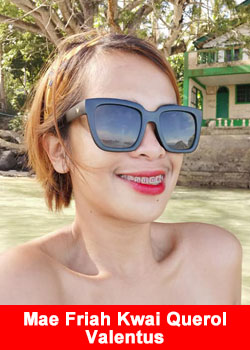 Mae Friah Kwai Querol is a 36 years old single parent, she stated upon her achievement:
I have two girls; Bianca, 11 and Blanche, 9. I am a high school teacher for 12 years now in Malaybalay City, Philippines.
As a teacher, I get P10,000 (around $200) per month as net pay after my loan deduction. I used to apply for loans from different banks so I could take my kids and siblings to go shopping and eat out. I liked buying stuff like shoes and bags, not branded but they are considered "Class A" as long as I will look classy in it. My normal life before was, teach Mondays to Fridays and weekends spent with family. If I ran out of money, I just ask from my mother.
My journey with Valentus started September 2018 through the invitation of my cousins, Dario Melendez and Jen Melendez. I was hesitant about the offer since I have no prior experience in any businesses.
The only thing I like to do is to post good pictures of me on Facebook. I thought people wouldn't want to buy because the coffee was selling for a high price. But I took the risk. Me and my boyfriend, Marc Anthon Aliac, invested $1,200 or 60,000 pesos as our capital for this business.
I thought it over before I said yes, so they sent me a box of Slimroast optimum coffee. I have been struggling to lose weight. I did all sorts of cardio exercises but did not see much progress. Then I started drinking the Slimroast optimum coffee. I was seeing results after a few weeks. I immediately posted it on social media. Since, I do have quite a number of friends on Facebook, it became a big hit!
Every day, I would post about Valentus Slimroast optimum coffee and it's going viral on social media. I think I created a "cult" of Valentus here.
I don't care if people get tired of my constant post about the positive feedback and results from people who bought coffee from me. I'm always SOLD OUT!
After a month, I was able to afford to buy a brand new car, TOYOTA WIGO. It was my very first car. My kids cried. We are never taking a bus again when we travel. By January 2019, I made my own Valentus TEAM BUKIDNON. My loyal customers turned into Independent Representatives. A powerful hardworking team!
With my Valentus earnings, my life has changed! I am LOAN-FREE! I paid off all my loans. I am enjoying my life even better! We have a swimming pool for my kids to enjoy. Shopping and eating out at classy restaurants. Every weekend we go on trips. Everything I can afford now.
My boyfriend and I went to Singapore last summer. He lives in Cebu. Before, I'd see him once or twice a month. Now, I fly to see him every week. I feel so rich! Plane tickets are easy thing for me even hotel bookings (5 star hotels I must say). We have more destinations in plan.
My BIG earnings aside, I still choose to stay in teaching because is teaching is my passion! But I won't ever have to check my paycheck. Valentus is amazing!
Eight months later, I ranked up as DIAMOND, then DOUBLE DIAMOND. Thanks to the car bonus, I have a brand-new SUV, a NISSAN TERRA. Never would have thought that I could afford a $700 monthly fee for a vehicle. Finally, my whole family can fit inside the bigger car!
Moreover, I purchased a fancy motorcycle! More trips for everybody. Everyone's happy with every Friday's commission. Having been granted a car bonus, my team got even stronger! They ranked up as well and now enjoying their respective car bonuses. Truly life changing! Am I dreaming? Don't wake me up, Thankful for all these blessings. Thank you, God.  Thank you Valentus.
If I ever feel sad, i just look at the bank account.
About Valentus
In Latin, the word "Valentus" means "prevail," defined as proving to be superior in strength, power, and influence. Recognizing that, we couldn't have picked a more fitting name for a company that strives to be the example in an industry that deserves a leader to follow.
Since day one, our focus, our passion, and our commitment have been to create a company, a product line, and an opportunity built on a foundation of integrity.
From creating significant levels of income, to building strong networks, healthy long-lasting relationships, making new friends, participating in activities you never even knew existed, having the time to do the things you love with the people you love to be with, VALENTUS can help you PREVAIL in ALL of your goals! For more information please visit www.valentus.com
Recommended Distributors Valentus