QuiAri Is Experiencing Huge Growth In Africa
January 24, 2020
By Team Business For Home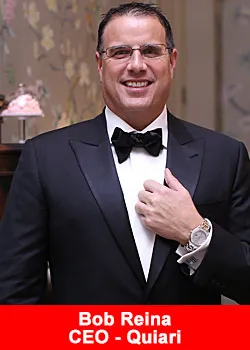 In less than 4 months time, QuiAri has become a global health and wellness powerhouse.
With the 90-Day Kickstart Challenge available to people in over 200 countries worldwide, there's no doubt that QuiAri's CEO and Founder, Bob Reina, has been laser-focused on keeping up with the enormous international demand.
"Right now we're experiencing huge growth in Africa. Our local Promoters haven't let us down. They are doing an incredible job promoting the 90-Day Kickstart Challenge,"
stated CEO and Founder of QuiAri, Bob Reina.
Apurinari Reagan, a QuiAri Promoter and Ugandan native, is part of QuiAri's leadership team in Africa. Reagan has been in network marketing since 2004 and has over 13 years of experience promoting health and wellness products. Prior to his career in multi-level marketing, Reagan was a Civil Servant for the Ugandan government. A friend introduced him to the MLM industry. Little did he know it would completely change his life.
"As a Civil Servant it was great, but I knew I needed more. When I got into network marketing, I started having fun at work. I was making lots of friends, I could make my own schedule, and the opportunity to earn more income was better,"
stated Apurinari Reagan.
Reagan heard about QuiAri from a friend that encouraged him to join. His friend kept telling him to try the products and he soon understood why.
"The shake was delicious! It was sweet, smooth, and it actually works. I became a Promoter right away, started passing out samples and had reports of people losing up to 11 pounds in the first week of the Challenge. These stories are spreading like wildfire throughout Uganda and the rest of Africa. Everyone wants to try QuiAri,"
said Apurinari Reagan.
 The opportunity QuiAri provides is unlike anything people in Uganda have ever seen before. The entire country is buzzing with excitement over QuiAri's Compensation Plan, which includes Same Day Pay.
"In Uganda, most employers pay monthly and in local currency. QuiAri pays commissions earned within 5 minutes after each sale – and in US dollars. That is a life-changing opportunity for many families here," said Apurinari Reagan.
 The fact that QuiAri's CEO, Bob Reina, has a proven track record of success which makes the opportunity especially appealing in Africa, as many MLM professionals have been disappointed in the past due to companies failing to live up to their promises.
"I believe in integrity, transparency, and unity. I work closely with the top leaders in QuiAri and they have always been true to their word. That means a lot to us. We're like one big family working together to all help take QuiAri to the next level," stated Apurinari Reagan.
Reagan's vision for the future of QuiAri is to be #1, not just in Uganda, but all of Africa and the entire health and wellness industry.
"I love helping good companies become great. QuiAri is on the rise here in Uganda and I'm rising along with it. It's an exciting time for everyone here. I love it,"
said Apurinari Reagan.
About QuiAri
QuiAri provides life-changing opportunities that empower people to feel their best so they can live their best. Their breakthrough health and wellness products are made from an exclusive extract of the maqui berry, the world's new number 1 superfruit. Plus, QuiAri offers opportunities to receive Same Day Pay just by sharing their products with others. Try. Love. Share!
To learn more about QuiAri, or to get in touch with a Promoter, visit QuiAri.com.
These statements have not been evaluated by the Food and Drug Administration. These products are not intended to diagnose, treat, cure or prevent any disease.
Income Disclosure Statement
Please note the QuiAri business opportunity offers unlimited income potential. However, QuiAri makes no guarantee of financial success. Success with QuiAri results only from successful sales efforts, which require hard work, diligence, skill, persistence, competence, and leadership. Your income will depend upon how well you exercise these qualities.
 As QuiAri is in its first year of business operations, we do not have sufficient statistical data to prepare complete, first-year income disclosures. A more detailed survey will be conducted after our first year of business. If income projections were presented to you prior to your enrollment, such projections are not representative of the income, if any, that you can or will earn through your participation in the QuiAri Compensation Plan.
Recommended Distributors QuiAri