Rank Makers By Ray And Jessica Higdon – A Safe Place To Grow Your MLM Business
January 7, 2020
By Team Business For Home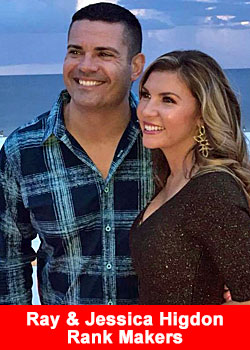 Rank Makers is a "secret tribe" of sorts where network marketing entrepreneurs, like yourself, can learn and grow WITHOUT feeling discouraged or "put down" by so-called-leaders and "trainers" who just don't understand you.
Ray and Jessica Higdon stated:
This group is a SAFE place to learn, grow, and implement "field-tested" and proven social media and marketing strategies to grow your network marketing business. Inside this group, you'll discover a bustling community of some of the most inspiring and uplifting entrepreneurs on the planet.
Rank Makers help and support each other, no matter what company they're in. It's in our DNA. We use a special "Closed Facebook" group as our primary channel for delivering you instant trainings, insights, and updates.
Rank Makers CORE mission and purpose is to help YOU and your team grow, thrive, and rank advance. You'll find unique & fun opportunities, limited-time competitions, and training sessions to help you in your quest to hit that next rank. And when you do, you can BET that we are going to celebrate.
Because, in Rank Makers, we celebrate your wins. When you Rank Advance, or help another teammate rank advance, we'll be among the first to recognize, celebrate, and cheer for you. After all, this is exactly what being a Rank Maker is all about.
What others our saying
About the Higdon Group
The Higdon Group is passionate about helping network marketers not only reach their highest potential but equipping them at every level with the knowledge needed to succeed.  Headed by Ray and Jessica Higdon, the company lives and operates by their credo:
"Help people find freedom and fulfilment while always doing the right thing and striving for "awesomesauce."
It's this passion adopted by every team member working to support this vision that makes an impact both internally and externally.
From various content crafted and shared with global audiences daily to the appreciation and recognition of those striving for and achieving results, the Higdon Group is truly a unique company set apart in the world of Network Marketing.
The Higdon Group stands apart from other companies given their continued dedication to the network marketing industry delivering daily live content in a private membership based community called Rank Makers. Rank Makers gives network marketing  professionals a place for community and support and they are guided daily with live training by Ray Higdon and the help of his team members.
To learn more you can visit www.HigdonGroup.com