Ryan Fry Advances To The Rank Of Elite Pro 8 With LifeVantage
January 9, 2020
By Team Business For Home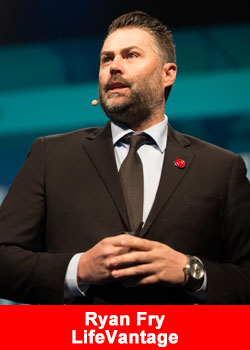 LifeVantage (Nasdaq:LFVN) has announced that Ryan "Ry" Fry has achieved the rank of Elite Pro 8. He hit the Elite Pro 7 rank just four months prior, less than a year after joining the company.
"Ryan has accomplished in two years what it takes many to reach in a career,"
said LifeVantage Chief Sales Officer Justin Rose.
"Achieving Elite Pro 8 is a huge accomplishment. But for someone like Ryan, it's just the start. We can't wait to see what he does next."
Fry, a Utah native, owned a successful beef jerky company with his brother before joining the direct sales industry.
"We competed with some of the biggest companies on earth," Fry said. "We went from zero in sales to millions. But then we eventually lost the company to venture capital firms."
With a wife, two small children, and another on the way, Fry found himself holding a pink slip, three days severance, and a high school education. For the first time in his life, he wasn't in control of his financial future – and the thought terrified him. Then on the way home, Fry's phone rang. It was a friend and an invitation to attend a network marketing introduction meeting. Afraid to face his wife without any job prospects, Fry agreed. The rest is history.
In 2003, Fry began to build his first network marketing business. He dedicated himself to being coachable, and with some luck and hard work his business quickly expanded to Israel and then across Europe. It was then Fry decided to take his business to a different company.
"I thought success would be easy," Fry said. "I thought the success I had worked so hard to achieve in growing my previous sales business would be easy to achieve at a new company. And it wasn't."
After watching his global network collapse, Fry found himself starting from scratch. It was about that time that he received a call from Rose at LifeVantage. Fry eventually decided to meet him in Park City, Utah, in 2017 and joined. According to Fry, it was one of the best decisions he made.
"There's not a single company in the network marketing space that has changed my life more dynamically than LifeVantage," Fry said. "And it's not just financials. It's the leadership across the company. This is a company that works together. I don't see a lot of ego. I see a partnership with corporate. And the products are more scientific than anything I've encountered."
Fry attributes his rapid success to self-development – and an approach that turns leadership inside out. According to Fry, true leadership starts inwardly. If an organization's leader grows, the rest of the organization follows suit.
"That's how I find motivation today," Fry said. "I've already reached my financial goals. I want to be a true leader. I want to help give people more opportunities – especially in countries where those opportunities might not exist."
About LifeVantage
LifeVantage Corporation (Nasdaq: LFVN) is a pioneer in Nutrigenomics – a new science dedicated to biohacking the human aging code. The Company engages in the identification, research, development, and distribution of advanced nutrigenomic dietary supplements and skin and hair care products, including its scientifically-validated Protandim® product line, Omega+ and ProBio dietary supplements, its TrueScience® line of Nrf2-infused skin and hair care products, Petandim™ for Dogs, Axio® Smart Energy Drink mixes, and the PhysIQ™ Smart Weight Management System.
LifeVantage was founded in 2003 and is headquartered in Salt Lake City, Utah. For more information, visit www.lifevantage.com.
*Distributor success depends on individual diligence, work effort, and market conditions. LifeVantage does not guarantee any income or rank success. For the company's Average Annual Earnings Disclosure by rank, visit lifevantage.com.
Recommended Distributors LifeVantage