Top Leader Jenna Zwagil: "One Person Can Change Your Reality In Network Marketing"
January 25, 2020
By Team Business For Home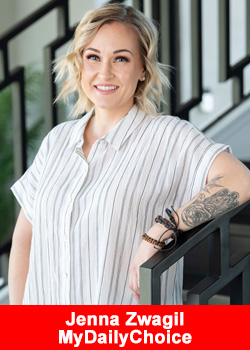 Jenna Zwagil is currently the Nr.1 female top earner in the industry alongside her husband Josh Zwagil, CEO & Founder of MyDailyChoice.
Jenna founded HempWorx and built a massive team as a distributor after it was merged with MyDailyChoice in 2017. She is a mother of 3 and resides in Las Vegas, Nevada, USA.
4 year ago Jenna was broke, this is her inspiring journey to success, it did NOT came overnight…..
Jenna Zwagil:
"My mom nearly lost hope for me after I got fired from my 'good job' with benefits at the cable company I worked at for 8 months".
It was my longest held job I'd had in a couple years and I was a single mom to a two year old and was freshly divorced from an E-3 Marine who wasn't making enough to cover child support on most months.
I was the sole provider and yet took so many risks early on in my life because I never felt like I belonged anywhere. Every new career was a disappointment:
I tried hair school.
Medical assisting school.
Nursing school.
Community college.
Online school.
Phone sales
Cable sales
Grocery store bagger / cart pusher
Cashier
Pizza delivery driver
Insurance sales
Graphic designer
Fast food worker
Door to door sales
Car sales
Army Solider
Pretty much everything you can imagine, I tried it, I hated it, I either quit or got fired (or my time was up) because in every scenario I was not in control of my destiny.. and this was a problem for me.
I didn't know what I wanted to be for a long time. It seemed like everyone else knew what they wanted to do and had it all figured out. I didn't know what I wanted to do, but had a list a mile long of what I knew I didn't.
As chaotic as my life was I knew I was meant for something great. Deep down I knew I had a lot to offer and because I had so many different experiences I could relate to all kinds of people.
Enter  Network marketing.
At first.. I sucked at it. Don't get me wrong – my sales skills did translate but my people + relationship skills were underdeveloped.
The one thing I was good at in my life was running when things got uncomfortable. I ran from two marriages and a hundred jobs before I found network marketing.
Network marketing wouldn't award me success until I took personal development seriously though and that's the catch if there ever were one.
You attract what you are.
This industry changes you if you let it. It challenges you to compete against yourself and who you used to be. It forgives you of your past and allows you the opportunity to reinvent yourself regardless of where you came from.
For that, I'm forever grateful. Reaching success was more about the person I became when the impossible became possible. It was the tears on my pillow the nights I swore I'd quit. It was the fight within myself to stay when every urge in my body told me to run.
It was passing every test the universe threw my way because I told it this was what I wanted. It was complete acceptance for being in every moment and allowing myself to heal from every trauma that had once held me captive.
4 years ago, I drove to Vegas from Baltimore with nothing but my personal belongings and a small shred of hope.

I didn't know where we'd end up or what we'd become along the way, I only knew it was a journey we were meant to take. Today, I am considered one of the most successful women in network marketing. 
I wouldn't be here without Josh Zwagil, who, saw my future before I did.. I blindly trusted this man against all logic + common sense.
He believed in me when I didn't. He cheered me on when I wouldn't. He woke me up from the unconscious life I had been living + he delivered on every promise he made when he said it would all work out.
Sometimes you have to borrow belief from someone who can see your greatness before you can. When it's hard to believe that you're capable of conquering it all.. 
I decided to pass the torch to a few people I've had the honor to mentor. I believed in them when they didn't believe in themselves and I saw their future before they did.
I don't have all the answers to being a great leader but what I do know is how important it is to be the belief for those who doubt and the vision for those who cannot see.
One person can change your reality. Become that person + watch the ripple effect of positive change in the world.
About MyDailyChoice
At MyDailyChoice, we are 100% committed to providing our independent business owners and customers with the most attractive and highest quality product lines within top-trending industries.
Our mission is to empower families around the world through good health, financial opportunities and the smart daily choices that can deliver both. That is why we provide an unprecedented compensation plan and a unique and innovative line of products made with the highest quality CBD oil, grown and manufactured right here in the US.
MyDailyChoice was founded in 2014, merged with HempWorx in 2017, and is currently headquartered in Las Vegas, NV. Under the leadership of Founders Josh and Jenna Zwagil, MDC reached $100 million in sales in 2018. For more information please visit www.mydailychoice.com
The are no guarantees regarding the income from the MyDailyChoice/HempWorx opportunity. The success or failure of each Affiliate, like in any other business, depends upon each Affiliate's skillset and personal effort.
Earning levels for Independent Affiliates are examples and should not be construed as typical or average. Income level achievements are dependent upon the individual Affiliates business skills, personal ambition, time, commitment, activity and demographic factors. To view the MyDailyChoice Income Disclosure Statement, click here.
Recommended Distributors MyDailyChoice