VABO-N Enter The Omega-3 Market With Patented Technology
January 26, 2020
By Team Business For Home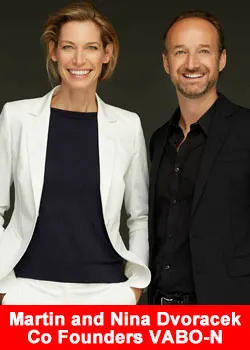 At the annual KICK OFF event VABO-N presented an innovative, high-dose omega-3 product in an unprecedented patented dosage form.
VABO-N OH!MEGA – fruity jellys with 600 mg of omega-3 fatty acids (362 mg DHA and 148 mg EPA) per delicious, sugar-free 1.65 grams.
The patented and 100% natural technology from VABO-N OH!MEGA gives fishy taste and unpleasant eructating no chance – and all without sugar. On top, the technology has been proven to ensure a 44% higher bioavailability compared to soft gel capsules.
The texture: something between jelly and gummy bears – unique.
Everyone who knows the VABO-N owners Martin and Nina Dvoracek knows that their product requirements are to the highest level in all respects. VABO-N OH!MEGA contains TG fish oil concentrate with an exceptionally high triglyceride content of 90% and the highest degree of purity.
No need to mention that sustainable, traceable fishing with an FOS certificate was an absolute must when choosing the raw material.
The creative presentation in the form of jellys offers further advantages to oil and capsule products: VABO-N OH!MEGA can be taken without water, is easy to transport, remains tasty for a long time and even children like it – because it is fun!
"With this product, we have once again remained true to our motto" Healthy can be fun and delicious!". If you must eat something every day, it helps that it is so delicious that you look forward to it every day",
says Martin Dvoracek, CEO and co-owner of VABO-N.
About VABO-N

VABO-N stands for "Valuable Body Nutrition". The Austria based company was founded in 2015 by Martin and Nina Dvoracek.
The VABO-N founders – who earlier successfully built a 5000+ team in MLM – are convinced that for a better and happier life, we need both health and a certain income in order to achieve our goals and dreams.
This is the basis on which VABO-N was founded: a network marketing company offering high quality nutritional supplements which have the power to sustainably improve the lives of many.
The company is currently not only shipping their innovative all-in-one body nutrition products to Germany, Austria and Switzerland, but also to Slovakia, Spain, Italy, Luxembourg, Liechtenstein and the Netherlands – with more countries to come! VABO-N offers business opportunities in all of those countries. For more information please visit www.vabo-n.com