Africa Is For Years A Stronghold For WorldVentures
February 24, 2020
By Team Business For Home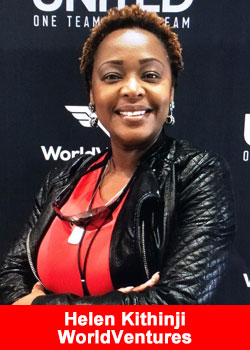 Africa is very open for legit network marketing opportunities and we see an increasing number of companies opening up countries in Africa.
For years Africa is a stronghold for WorldVentures.
International Marketing Director Helen Kithinji commented on her Facebook:
Today was the happiest day of my life in recent times. God aligned celebration of my 7th WV birthday with my recognition for earning the Million Dollar Earner Ring in front of Hundreds of business leaders here in Cape Town. (South Africa)
As my mentor Matt Morris wrote about my achievement:
'This ring may mean that you've earned one million dollars, but the real significance of the ring is that it's a symbol of how many lives you've positively impacted.'
I am so grateful about this opportunity and divine favor to be part of a remarkable Company whose single purpose is to empower people to change their lives and those of million others in the process.
Thank You Matt Morris for your leadership and commitment to see many people achieve and experience the imaginable. You have been a blessing to me, my family and a million other families around the world. May God bless you all the days of your life.
To the CVO and Founder of our company; thank you for creating such an amazing opportunity for humanity to experience more Fun, Freedom and Fulfillment. May God continue to light your path.
Marc Accetta, you are God sent! You have transformed my mindset and that of many to action and confidence to chase our dreams. Thank you. Thank you! You may never know the impact you have had in Africa and beyond. You are a legend.
To our Senior Vice President Justin Call,  all the Corporate Executives, WV Africa leaders, East Africa leaders and Team Fastforward, I am so grateful for your partnership and friendship. You are my family. Let's all do whatever it takes to help more people transform their lifes.
About WorldVentures
WorldVentures Holdings, LLC, a privately held company based in Plano, Texas. WorldVentures Marketing, LLC sells travel and leisure club memberships providing a diverse set of products and experiences. The company's goal is to help Independent Representatives, DreamTrips™ Members and employees achieve more fun, freedom and fulfillment in their lives.
WorldVentures uses the direct sales model to go to market with active Representatives and members worldwide. For more information, visit worldventures.com.