ByDzyne Successfully PreLaunches Into Peru
February 6, 2020
By Team Business For Home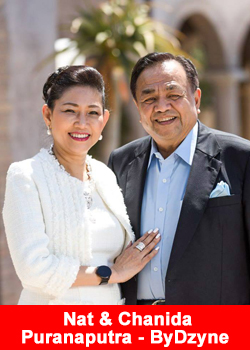 ByDzyne recently announced its official prelaunch into Peru as one of the first LATAM countries.
This is ByDzyne's first step in expanding into the Latin market, one of the fastest-growing markets globally in this industry.
"We couldn't be more excited for this tactical move. ByDzyne is all about breaking all vision barriers, and we are thrilled to do so country by country.

Once we stepped foot into Peru, the heart of the people is what caught us, and the feeling of unity and family, and it is now a constant reminder why we need to give it our all in helping everyone succeed here,"
said Chad Chong, Co-Founder.
With just 15 days of prelaunch, their first event already pulled in hundreds of Brand Ambassadors and entrepreneurs alike, producing the country's very first 2 Star President Christian Nuñez. Included also are Diamonds Elmer Salas, Fiorella Guillen, and Favio Campos, along with the leadership of Paola Nuñez, Gustavo Chirinos and Alue Rey.
"The constant mentoring we receive from Chad & Nattida Chong is incredible. I'm still surprised when the Co-owner of the company, an industry legend, tells me not to forget to call him whenever I need to, "
exclaims Christian Nuñez.
"One of the most attractive aspects of ByDzyne is its capacity for innovation and understanding of the industry's future. Having such vision and experience from the owners allows us to understand that they are clear with where the company is going, "
stated Fiorella Guillen
ByDzyne's strategic expansion into Peru is a testament to the company's goal of becoming a global brand, focusing on what they call "The Power of Choice." Being country specific with their future products, ByDzyne looks to break the mold of what most have witnessed in the industry.
Gone are the days of being forced to sell the one product that a company focuses on. ByDzyne has already launched into technology, beauty, wellness, travel, and most recently, forex education.
"We are here to let the leaders guide the company. Everything rises and falls with leadership. So if they are passionate about a certain product, then that's the direction the company must go. That will always be a commitment that remains at the heart of our brand,"
says Nat & Chanida Puranaputra, Co-Founders & Chairmen.
"Excited to bring life-changing opportunity to Latin America with prestige products. All we can promise is to always give it our all and best. We are honored to expand our impact in our newest market Peru," said Sophia Wong, Co-Founder & President.
About ByDzyne™
ByDzyne's multi-faceted approach disrupts the traditional industry model by first understanding that one size DOESN'T fit all.
You were born into a particular culture, with unique tastes, interests, and desires. ByDzyne™ was created with a mission to celebrate your uniqueness and empower your extraordinary potential. Our exceptional "culture-crafted" products meet distinct needs in key consumer markets, and our lucrative business opportunity was formulated to fuel your ideal lifestyle, as YOU see fit.
Our visionary leadership wanted to create an unparalleled company with your individual needs in mind, whether as a consumer or Brand Ambassador. This customizable approach is a driving force that propels everything we do and will do in the future. We are launching into not one but FIVE of the fastest growing multi-trillion dollar industries, creating one of the most explosive opportunities in the market, starting with technology, beauty, wellness, travel and now trade.
Our mission is to continue to expand our global footprint into multiple verticals to maximize your income opportunities, capitalize on trends, and gain market share in upcoming industries as they advance.
Through ever-evolving innovation, and with the utmost integrity, our experienced executive team strives to stand apart from the pack, and build a legacy you can be proud of; one you can truly call home. We are ByDzyne™. Where limitations don't exist. For more information, please visit www.bydzyne.com.
Recommended Distributors ByDzyne