Crowd1 CEO Is Johan Staël von Holstein – A Fair Short Review
February 25, 2020
By Team Business For Home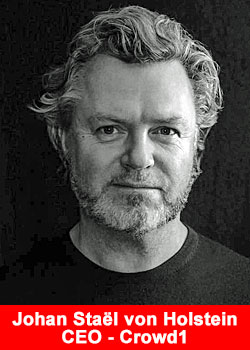 Crowd1 is making waves in Europe and Africa with a binary compensation plan selling "Owner Rights".  The Alexa rank is 5, which mean the website is getting an enormous amount of traffic.
The company website ownership is at Impact Crowd Technology SL. A company in Spain. If that is the entity you are signing up with is unclear. Other sources mention Malta as home.
The founder of Crowd1 is Jonas Werner, Chief Network Leadership is Peter Jakobsson. Recently the company revealed as CEO, Johan Staël von Holstein, and according to Wikipedia:
Lars Johan Magnus Staël von Holstein, is a Swedish entrepreneur, venture capitalist and author who co-founded dot-com companies such as Icon Medialab and LetsBuyIt during the early dot-com boom in Sweden.
Stael von Holstein is a well known public speaker and author within the field of entrepreneurship, technology, privacy and digital rights issues and has been perceived as one of the leading Internet visionaries in Europe.
So, Crowd1 has definitely a Top CEO, which is important, however not the only factor in an unbiased due diligence.
How about the services Crowd1 is offering?
According to the Terms and Conditions:
The 4 Education Packages that you can purchase are:
Name of Education          Packages Base Price  Value of Owner Rights
White                             € 99                                      € 100
Black                              € 299                                    € 300
Gold                               € 799                                     € 1,000
Titanium                       € 2,499                                 € 3,500
Regulators all over the world do not like the combination of service packs, recruitment and network marketing. In the USA it's a no go. Other countries might be more liberal however its a risk.
What is the revenue generator?
Crowd1 generates revenue through online gambling.
Crowd1 shall introduce our customer base to this industry in a way that will create substantial recurring revenue for Crowd1 members without being a gaming company and without arranging any payments to a gaming company.
What about the compensation plan?
The compensation plan is a classic binary, which we do not see much nowadays, many network marketing professionals do not like it.
Is it Crowd1 legal and sustainable? 
We believe Crowd1 CEO Johan Staël von Holstein is a fine entrepreneur, with a great vision, however we have our doubts if the opportunity is legal and sustainable. In the present form its a recruitment only opportunity, regulators in many jurisdictions do not like that at all…. We noticed in Namibia the opportunity is on 24 February 2020, banned by the Bank Of Namibia.
Restricted countries – Why a couple of Caribbean islands?
Its obvious countries such as North Korea, Cuba, Sudan, Iran, Syria are on the restricted list, however:
What is your legal position as "Independent Distributor" ? :  You have no rights at all 
If you as an Associate violate these Terms & Conditions Crowd1, without prejudice to any other rights and remedies at law or in equity, reserves the right to take any action it deems appropriate, including but not limited to issuing warning letters, suspending or terminating the Membership, as per above. Furthermore, Crowd1 has zero-tolerance for unprofessional behaviour that can in any way, shape or form directly or indirectly harm Crowd1 or Crowd1's company.
Legal action will be taken against those individuals for any loss of income or any other financial loss caused to the Crowd1 or Crowd1's company due to this behaviour. Any Associate caught smearing the name of Crowd1 – whether it's directly or indirectly – or in any way misrepresent Crowd1 or its company, will also be subject to legal action.
Crowd1 shall be the sole determiner in cases of suspected abuse, fraud, violation of its rules, unprofessional behaviour, smearing or misrepresenting Crowd1. Any decision Crowd1 makes relating to the cancellation of earnings and the termination of membership shall be final and binding.
Who are the network marketing professionals behind the company?
According to the company Crowd1 has already 1.5 million sign up's, you can do that only if professional network marketers are involved, to run presentations etc.
We noticed Udo Deppish and Julio Camacho are involved.
On a side note: Notorious Dutchman Renze Deelstra popped up in Crowd1, Renze changed his name to Renz Eduardo. One of the worse recruiters in the world.
Our conclusion?
It's an interesting company to follow, and we are on it 🙂
About Crowd1
Crowd1 is a closed membership club by invitation only. The membership is free and as a free Associate you will be allowed to upgrade with different Education Packages, that includes several internal and external features, that Crowd1 from time to time offer their Associates to join and potentially earn money from. If you choose to be an Associate with a paid Education Package, Crowd1 may provide you with Owner Rights. As a free Associate in Crowd1 you will be allowed to log in at your back-office at the website www.crowd1.com