LifeVantage Welcomes Amy Holmwood As Newest Master Pro 10
February 7, 2020
By Team Business For Home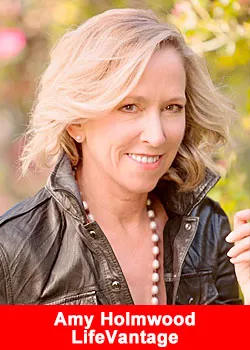 LifeVantage (Nasdaq:LFVN) has announced that Amy Holmwood of Bethesda, Md., has achieved the rank of Master Pro 10 with the company. Master Pro 10 is the company's top elite rank.
"We are so happy for and proud of Amy and, on behalf of the entire company, I congratulate her on this accomplishment,"
said LifeVantage President and CEO Darren Jensen.
"She, in so many ways, embodies who we are as an organization. For all intents and purposes, she has been biohacking for most of her life and is an industry pioneer in her own right."
Holmwood was born just outside of Philadelphia, Pa., but grew up primarily on the west coast in Grass Valley, Calif. Life was good in the foothills of the Sierra Nevada Mountains on the family farm – but not without its problems.
"I was very sick as a child – I was a severe asthmatic and had to take a lot of medication,"
Holmwood said.
With the help of her late mother – a chef by trade and early pioneer of the organic food movement – Holmwood learned at a very early age the role of nutrition in health and how to take better control of her own health. Most everything the family ate was homemade and, in many respects, homegrown on the family farm. Vitamins and supplements were also a staple for Holmwood.
She grew up knowing more about her genome and DNA than most learn in a lifetime. Over time – and over the course of a series of health setbacks that included Lyme disease – it's a lifestyle that became a way of life for Holmwood, partly as passed down from her mother, but perhaps even more so out of necessity and survival.
So, when a friend introduced her to LifeVantage in 2012, it was like becoming reacquainted with an old friend.
"I was intrigued with the science and the products and understood what was possible with them. To take all that science and put it into one product at that time, to me, was brilliant. I knew immediately the opportunity that existed in this space,"
Holmwood said.
"I was also intrigued that this unique product was in network marketing. I was never interested in any other network marketing opportunity before because I didn't think there was anything that compelling. When I saw this, I thought it was very, very special."
After retiring at the age of 50 from a successful career in estate and financial planning – including several years working alongside her father in a family business – Holmwood was excited enough about the prospects with LifeVantage that she came out of retirement after just one year to join what she considers another family business in so many regards. And for her, it was Pro 10 or bust from the beginning.
"When I said 'yes' to LifeVantage, I knew I was going to have to finish the job," Holmwood said. "So, it was just a matter of when it was going to happen. It wasn't a question of whether it was going to happen. With what we have at LifeVantage, it was going to happen."
Now that it has happened, one might think that Holmwood would stop and take a breather, maybe give herself a pat on the back. Maybe it's the farmgirl in her, but she's doing anything but. Holmwood returned to school last year and will continue her pursuit of a master's degree in biotechnology at Johns Hopkins University.
She plans to continue to build her business, including abroad – as LifeVantage has expanded, so has she, primarily in Asia but also in Europe, Australia, and New Zealand. As she continues to build out her own business, she will continue to help her son Eddie build out his own business with LifeVantage – having already crested the Pro 5 rank, he's a chip off the old block.
Holmwood also continues to have her hands in a couple dozen other business ventures, many – naturally – in the health space. And if that weren't enough to keep her busy, the long-time Marylander and her husband, Ed, are gearing up for a move across the country to Park City, Utah, later this year. Perhaps more than anything, however, Holmwood is absolutely fixated on helping others get to where she now is.
"I wasn't going to stop until I got to this point,"
Holmwood said. "Now that it's here, I feel like I have so much more responsibility to help other people elevate their businesses, because it's possible to do this. It feels wonderful but now it feels like I have so much work to do – it feels like my business just started literally on February 1. This is Day 1. That's how I feel. I'm more fired up than I've ever been about LifeVantage, about the product, about the industry, about our company, and about our executive team.
The sky's the limit with this, and we're going to help a lot of people."
About LifeVantage
LifeVantage Corporation (Nasdaq: LFVN) is a pioneer in Nutrigenomics – a new science dedicated to biohacking the human aging code. The Company engages in the identification, research, development, and distribution of advanced nutrigenomic dietary supplements and skin and hair care products, including its scientifically-validated Protandim® product line, Omega+ and ProBio dietary supplements, its TrueScience® line of Nrf2-infused skin and hair care products, Petandim™ for Dogs, Axio® energy drink mixes, and the PhysIQ™ weight management system. LifeVantage was founded in 2003 and is headquartered in Salt Lake City, Utah. For more information, visit www.lifevantage.com.
*Distributor success depends on individual diligence, work effort, and market conditions. LifeVantage does not guarantee any income or rank success. For the company's Average Annual Earnings Disclosure by rank, visit lifevantage.com.
Recommended Distributors LifeVantage