Nu Skin Q4 Revenue Down 15% To $583 Million – Sales Leaders Down 25%
February 12, 2020
By Team Business For Home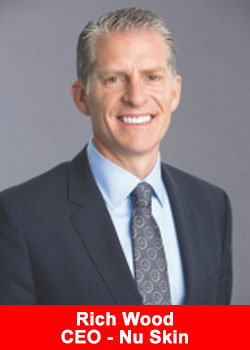 Nu Skin Enterprises, Inc. (NYSE: NUS) today announced fourth-quarter and 2019 financial results.
"In the fourth quarter our business performed in line with expectations,"
said Ritch Wood, chief executive officer.
"Our customer base remained relatively strong, however, our sales leader count was down in the quarter, primarily driven by a decline in Mainland China.

We held a global convention in October, which generated enthusiasm among our worldwide sales force. Additionally, we reported 24 percent growth in our manufacturing entities, an area where we see strong opportunities for continued expansion."
"In 2020, we are focused on building sales leaders by leveraging our technology enhancements and executing a strong product launch," continued Wood. "We have an exciting product pipeline, including a new beauty device that we plan to introduce in the second half of the year, further expanding our top-ranked beauty device systems brand. We expect the momentum around this launch to provide opportunities to accelerate customer and sales leader acquisition. Given the global business environment we are also focused on increasing operational efficiencies. We are confident in our ability to return the business to growth and drive shareholder value.
"As always, the health and safety of each member of our global Nu Skin family is our top priority. Following the recent coronavirus outbreak, we placed a temporary hold on all in-person meetings with our sales force and customers in Mainland China. We are closely monitoring this continuously evolving situation and following direction from government and health officials. While we expect the outbreak to significantly impact our business in the near term, we remain confident in our long-term opportunity in Mainland China and around the world. While the duration and global impact remain uncertain, our guidance reflects our current understanding of the situation," concluded Wood.
"For the year, we are projecting a decline in sales in Mainland China of 20 to 25 percent and a negative foreign currency impact of 1 to 2 percent," said Mark Lawrence, chief financial officer.
"We currently anticipate the overall business will return to growth in the fourth quarter of 2020, driven by the launch of a new beauty device. We project first-quarter revenue of $480 to $510, including an approximate 2 to 3 percent negative currency impact, and earnings per share of $0.23 to $0.33.
For the year, we are projecting annual revenue of $2.17 to $2.30 billion with a projected 1 to 2 percent negative foreign currency impact, and earnings per share of $2.00 to $2.40."
About Nu Skin
Founded 35 years ago, Nu Skin develops and distributes innovative consumer products, offering a comprehensive line of premium-quality beauty and wellness solutions. The company builds upon its scientific expertise in both skin care and nutrition to continually develop innovative product brands that include the Nu Skin® personal care brand, the Pharmanex® nutrition brand, and most recently, the ageLOC® anti-aging brand.
The ageLOC brand has generated a loyal following for such products as the ageLOC LumiSpa skin cleansing and treatment device, ageLOC Youth nutritional supplement, the ageLOC Me® customized skin care system, as well as the ageLOC TR90® weight management and body shaping system. Nu Skin sells its products through a global network of sales leaders in Asia, the Americas, Europe, Africa and the Pacific.
As a long-standing member of direct selling associations globally, Nu Skin is committed to the industry's consumer guidelines that protect and support those who sell and purchase its products through the direct selling channel. Nu Skin International is a wholly owned subsidiary of Nu Skin Enterprises, Inc., which is traded on the New York Stock Exchangeunder the symbol (NYSE: NUS). More information is available at nuskin.com.