OneCoin Story Will Become A Television Drama
February 6, 2020
By Team Business For Home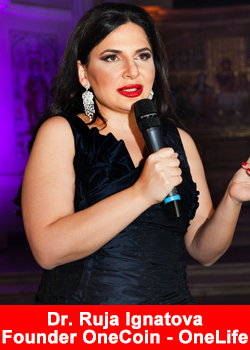 The stunning true story behind the $4 billion OneCoin ponzi scheme is headed to the small screen, following a bidding war for the TV rights.
The recently launched New Regency Television International in London has secured the rights to the hit BBC Sounds podcast "The Missing Cryptoqueen," according to industry publication Deadline.
A bidding war including A24 and 20th Century TV erupted over the rights to adapt the podcast after it was downloaded more than 3.5 million times in four months last year and hit No.1 on the iTunes chart in the United Kingdom.
Ed Rubin and Emma Broughton from New Regency will produce the series with the co-writers of the podcast Jamie Bartlett and Georgia Catt.
The podcast, and the adaptation, tells the story of Bulgarian entrepreneur Dr Ruja Ignatova who disappeared in October 2017, after fleecing investors from 175 countries out of almost $4 billion with her scam cryptocurrency-come-multi-level-marketing-scheme.
New York County District Attorney Cyrus Vance described OneCoin as "an old-school pyramid scheme on a new-school platform".
Rubin – head of TV at New Regency – called the podcast "a story about the dark side of rapid technological change, and how people can be duped on a massive scale – this is a cautionary tale that needed to be brought into mainstream consciousness.
"It's a world-traversing story of corruption, jeopardy and deception – and combined with the twists and turns, complex mystery and global reach of the scandal, we're excited to bring it to life on screen."
Brits lost 100 million pounds on OneCoin
The BBC podcast revealed hitherto unheard details about the scam including that in just six months in 2016, Britons spent 30 million pounds on OneCoin. In total, they lost 100 million pounds.
The investigation also revealed that despite marketing OneCoin as a cryptocurrency, the project didn't actually have a blockchain.
As the controversy grew around the project Ruja Ignatov flew out of Sofia, Bulgaria to Athens in October 2017 and has not been seen since.