Record Number Rank Advancements With LifeVantage During Second Quarter
February 6, 2020
By Team Business For Home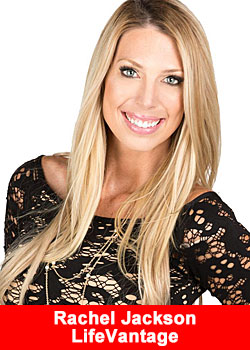 Fresh off the heels of announcing its strongest financial quarter in company history during the fiscal 2020 second quarter, LifeVantage also had its strongest rank advancement quarter in company history in terms of its elite ranks. Seventeen achieved elite ranks (Pro 7-10).
Leading the pack was Rachel Jackson, of Pewaukee, Wisconsin., who achieved the company's top elite rank of Master Pro 10 in October. She joined LifeVantage in 2015.
"Partnering with LifeVantage four years ago has been one of the smartest decisions of my life," Jackson said. "This company has richly provided us with compensation, rewards, community, and memories that far outweigh my brain's comprehension. LifeVantage is truly a "unicorn" of the industry."
"Rachel Jackson is a microcosm of everything we represent as a company," said LifeVantage President and CEO Darren Jensen. "She's the epitome of leadership and has become an anchor at LifeVantage. We are lucky to have her and are so proud of and happy for her."
Achieving the rank of Elite Pro 8 were:
James & Traci Hyden, Macy, Indiana (joined in 2014)
Julie M. Mai, Hanalei, Hawaii (2013)
Marilee & Shawn Maricich, Anacortes, Washington (2015)
Bob & April Wagner, Lake Mary, Florida (2018)
Achieving the rank of Elite Pro 7 were:
Dena Brock, Conroe, Texas (2015)
Ryan & Melissa Brown, Colorado Springs, Colorado (2017)
Toby & Amanda Detweiler, Breman, Indiana (2015)
Dr. Katherine Kadin, Rockville, Maryland (2015)
Dr. Richard & Jeannetta Petras, Fairmont, West Virginia (2017)
Becki Taylor, Bellingham, Washington (2015)
"Rank advancing at any level is no small feat. A lot of blood, sweat, and tears go into every rank advancement, particularly at our elite levels,"
said LifeVantage Chief Sales Officer Justin Rose. "We're proud of every group that advances, but this record-setting group has helped us set a great tone for 2020."
About LifeVantage
LifeVantage Corporation (Nasdaq: LFVN) is a pioneer in Nutrigenomics – a new science dedicated to biohacking the human aging code. The Company engages in the identification, research, development, and distribution of advanced nutrigenomic dietary supplements and skin and hair care products, including its scientifically-validated Protandim® product line, Omega+ and ProBio dietary supplements, its TrueScience® line of Nrf2-infused skin and hair care products, Petandim™ for Dogs, Axio® energy drink mixes, and the PhysIQ™ weight management system. LifeVantage was founded in 2003 and is headquartered in Salt Lake City, Utah. For more information, visit www.lifevantage.com.
*Distributor success depends on individual diligence, work effort, and market conditions. LifeVantage does not guarantee any income or rank success. For the company's Average Annual Earnings Disclosure by rank, visit lifevantage.com.
Recommended Distributors LifeVantage