Top Leader Cindie Wang Joins Ascira
February 23, 2020
By Team Business For Home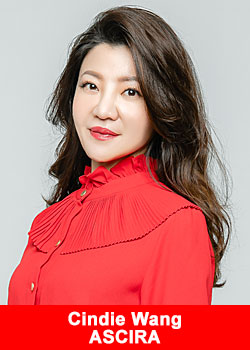 Cindie Wang proudly represents ASCIRA as an International Brand Ambassador. Ms. Wang's renowned experience and collaboration with global educational leaders has allowed her to create a platform for exceptional training and motivational speaking.
Cindie was born in Taiwan and holds a Master of Science Degree from Oxford Brookes University, UK.  She has been an engaged leader in the community and in business for over 20 years with extensive business practices in Network Marketing and as a proven Entrepreneur.
Cindie is the developer and owner of a motivational on-line educational platform as well as an on-line memory training program that has been distributed in over 120 countries. Cindie resides in Taipei, Taiwan where she is currently the CEO of a training company. Cindie dominated in the Network Marketing industry in 2002 when she led a pioneer MLM company from ground level to a Top 7 ranking in its field; generating in excess of $10 Million in monthly revenue.
She reached new heights in her networking career by achieving the highest ranking in her company and earning claim to Top Producer in Asia in 2014, 2017 and 2018.  Fulfilling the role as GM, Cindie was instrumental in the success of two international Networking Marketing companies that operated in 27 countries.
Cindie holds an impressive portfolio of accomplishments including: Director of the Chinese Speaker Association, Consultant with the International Leadership Foundation, and is the Chairwoman of the Global Federation of Chinese Businesswomen. Cindie was honored as a Top 100 Trainer and Course Provider in China in 2019. She is also a published author of 11 best selling books. Cindie has travelled, trained and inspirationally spoken to extensive crowds in over 43 countries. Using her social connecting skills, Cindie's mission is to unite worldwide talents and elite global leadership and build a bridge between the "East and the West".
About ASCIRA
Launching in March of 2020, ASCIRA will become a global leader in the field of education, direct sales and in network marketing industry. For more information on ASCIRA, you may contact us at [email protected] For more information please visit www.ascira.com
Recommended Distributors Ascira