Top Leader Khatib Ali Joins QuiAri
February 13, 2020
By Team Business For Home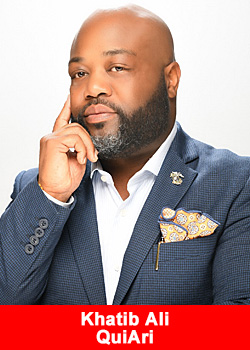 Everyone enters the direct selling industry for a different reason. Some are attracted by the high earning potential. Others join because they want to quit the daily grind and be their own boss. For QuiAri Promoter Khatib Ali, all he wanted was more time with his family.
Khatib was at the top of his game working in sales at a luxury car dealership when tragedy struck. His daughter, who was born with a severe illness and nearly died at birth, unexpectedly relapsed. Khatib took some time off from work to care for his daughter, but was pressured by his supervisors to return quickly or risk losing his job.
"I had no choice but to leave my daughter's side and go back to the office. That day I sold a guy one of our most expensive cars on the lot. I casually asked what he did for a living and he said he was in direct sales. He invited me to join the business and it completely changed my life,"
stated QuiAri Promoter, Khatib Ali.
Khatib's daughter eventually made a full recovery, but thanks to his massive success in the MLM industry, he never had to choose between work and family again. Today, he has the freedom to choose the hours he works and the products he promotes. Because of his daughter's illness, he prefers to join only health and wellness MLMs with products that legitimately improve the lives of others. Khatib, who lives in the Atlanta area, had heard good things about QuiAri's 90-Day Kickstart Challenge and couldn't wait to learn more.
"I was so excited to learn about QuiAri's 90-Day Kickstart Challenge because the products appeal to everyone. 80% of people out there, whether they are in shape or not, simply aren't getting the proper nutrition they need," said Khatib Ali.
Since the company opened last October, QuiAri has received a flood of testimonials from people around the world taking the Challenge and experiencing amazing results. The first time Khatib tasted QuiAri Shake, it was so delicious he couldn't believe it was actually healthy.
"The shake was smooth, flavorful, no grit. I studied the product label, thinking it was too good to be true. Then I realized it was even healthier than I thought! Only 120 calories per shake. If I don't believe in the products I'm promoting, I just can't do it. That day I became a believer,"
said Khatib Ali.
Khatib started his 90-Day Kickstart Challenge just two weeks ago and has already lost 5 pounds. He credits the simplicity of the Challenge. There is no need to count points or carbs. Just drink a delicious Shake in the morning followed by an Energy tablet or two whenever you need a boost and you're done for the day. Khatib is not alone in experiencing noticeable results in just 90 days or less. People all over the world are conquering the Challenge and encouraging others to join them. QuiAri has been using its social media channels to showcase the many success stories from the Challenge.
"There are pages and pages of testimonials that prove the products work. The advice I give all of my new Promoters is to host a tasting party within 48 hours after joining QuiAri. Once people try the products and see that they aren't gritty or chalky – mission accomplished," said Khatib Ali.
Anybody that loves QuiAri's Kickstart Challenge has the opportunity to get paid to promote it.  The company offers an easily duplicatable system with industry-first Same Day Pay, that's commissions paid just 5 minutes after each sale. People in over 100 countries worldwide have access to the Challenge, and that number is rapidly growing. Global expansion is happening at a record pace.
"I've never seen a company accomplish so much in such a short period of time. QuiAri has Promoters and Customers all over the world, established industry-first global Same Day Pay, and just opened a second office in the Philippines. The entire team, led by CEO and Founder, Bob Reina, are determined to be the #1 health and wellness company in the world and will not stop until they get there,"
said Khatib Ali.
Khatib admits that his decision to join QuiAri was influenced by the company culture. He loves how driven everyone is to succeed, yet eager to help each other achieve their full potential.
"This is a life-changing experience for me. I've been looking for a home for a long time and I found it in QuiAri. People at QuiAri are very supportive and I've found that being part of the QuiAri family provides me with the opportunity and stability I need to take better care of the people I care about most," stated Khatib Ali.
About QuiAri
QuiAri provides life-changing opportunities that empower people to feel their best so they can live their best. Their breakthrough health and wellness products are made from an exclusive extract of the maqui berry, the world's new number 1 superfruit. Plus, QuiAri offers opportunities to receive Same Day Pay just by sharing their products with others. Try. Love. Share!
To learn more about QuiAri, or to get in touch with a Promoter, visit QuiAri.com.
These statements have not been evaluated by the Food and Drug Administration. These products are not intended to diagnose, treat, cure or prevent any disease.
Income Disclosure Statement
Please note the QuiAri business opportunity offers unlimited income potential. However, QuiAri makes no guarantee of financial success. Success with QuiAri results only from successful sales efforts, which require hard work, diligence, skill, persistence, competence, and leadership. Your income will depend upon how well you exercise these qualities.
 As QuiAri is in its first year of business operations, we do not have sufficient statistical data to prepare complete, first-year income disclosures. A more detailed survey will be conducted after our first year of business. If income projections were presented to you prior to your enrollment, such projections are not representative of the income, if any, that you can or will earn through your participation in the QuiAri Compensation Plan.
Recommended Distributors QuiAri