Top Trainer Rob Sperry – I Joined 2 Days Ago Am I A Millionaire Yet?
February 27, 2020
By Team Business For Home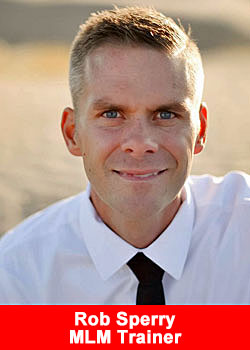 The struggle, though funny in this instance, is real!
If you aren't familiar with the Network Marketing profession, then you might not truly understand just how difficult it can be. Those who are part of this fast-paced, highly competitive industry know it can be a very difficult road to success. This road is often plagued with frustration, fear, and even fatigue.
And these bumps in the road are exactly what lead Rob Sperry to write his newest book, The Game of Conquering.
There are two questions that really drove Sperry's thoughts behind this book:
What is the most important thing to have to achieve success in Network Marketing?

What is the very first book a network marketer should read?
When Sperry asked other Network Marketing professionals what they needed most to achieve success in the industry, he kept hearing about the importance of systems and skill sets.
While he agrees that those things are vital, he couldn't help feeling that there was something bigger…something else that led the best of the best to attain success while others would give up or burn out.
"If you don't have the right mindset, you won't even get to the point of learning the skills and systems," Sperry says in one of his podcast episodes, Network Marketing Breakthroughs with Rob Sperry. "So I wanted to create a book on mindset that is specific to the network marketer."
In The Game of Conquering, Sperry addresses the often overlooked topic of overcoming common fears within the industry. After asking a [generic] network marketing Facebook group about their top fears, he was able to break out the top 5 fears most commonly faced by a majority of direct sales professionals.  They are:
Fear of failure
Fear of inadequacy
Fear of missing out
Fear of the unknown
Fear of being judged
But Sperry doesn't stop there. He then breaks down those fears down into 3 subtypes. Each of the subtypes has certain characteristics and beliefs  that attribute to those fears. Those subtypes are:
The victims, who focus too much on the past, are stuck in the past, and have a negative outlook on the past.
The survivors, focus too much on the future, overtrain, and overthink…but achieve  little to no success.
The conquerers, who learn from past experiences and have a vision for the future that is so strong that it compels them to get into action right now!
Sperry believes that most network marketers are Survivors. While survivors don't tend to have great success in the network marketing industry, Sperry says that becoming a Survivor is the first step in becoming a Conqueror!
If you're expecting a boring book that details only the fears and subtypes and that is written from a high-level, psychological perspective, DON'T!! This book is anything but boring.  Rob draws you in right from the beginning, sharing stories and his own personal fears from his network marketing days!! This fresh, personal perspective will have you hooked within the first two chapters!!
The Game of Conquering is a must read for anyone who is entering or already involved in the direct sales industry. It contains valuable insight that will make one reflect on his or her own story, goals, and potential, and this reflection and understanding lays the foundation for the mindset needed to attain success.
Are you a Victim, Survivor, or Conqueror?? There's only one sure way to find out. Read the book! www.thegameofconquering.com
About Rob Sperry
Rob Sperry has been recognized by top publication, Business For Home, as the #1 trainer for 2017 in the network marketing industry. In his first year in the industry, he reached the highest level in a multi-billion dollar company.
Conquering new heights Sperry became the co-creator of mynt. mynt was a spin-off from a $3 billion dollar company (total sales) and launched with a million dollars in sales, in just the first month.
Due to his expertise, he has been featured in national and international books, podcasts, blogs, articles, and magazines specific to finding success in network marketing. For more information please visit www.robsperry.com