VYVO Momentum More Superstar Talent Join The Smart Generation
February 3, 2020
By Team Business For Home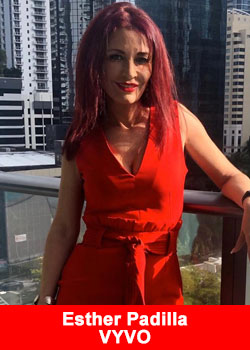 According to a VYVO Press Release:
VYVO's compelling value proposition that includes wearable technology devices, artificial intelligence analysis, digital health solutions and a powerful profit-sharing business model continues to attract top-level network marketing talent from around the globe.
VYVO continues to be viewed by new generation MLM leaders as the economic and technology infrastructure to support a brand new platform of global direct selling success.
One of those leaders is Esther Padilla, a superstar daughter of Spain and a seasoned and uber successful network marketing professional who has joined VYVO with an overwhelming amount of enthusiasm and passion for the vision of VYVO's entrepreneurial technology story.
Esther has proven time and time again her commitment to helping people of many different nationalities achieve their most noble dreams and their highest levels of personal success.
It can easily be said that Esther was born for the profession of network marketing. She shows a relentless commitment to action in the pursuit of her tenacious goals and objectives.
With her personal charisma and nonstop work ethic, Esther has arrived at pinnacle levels of accomplishment.  She is never satisfied, however, to enjoy these success peaks by herself.
Her ultimate joy is to provide essential training, nurturing, and leadership from her heart to guarantee that many, many of her team members have traveled the same winning journey with her.

She is an elegant example of effective leadership and noteworthy results. 
Esther now brings the vast scope of her network marketing success to VYVO.  She is extremely excited about the unique positioning of VYVO and is already making a significant impact by attracting the interest and commitment of hundreds of new team members who are also enthusiastic about the economic freedom they see possible with VYVO.
Through her riveting commitment to the VYVO vision, Esther is confident of her new opportunity of Making Life Wonderful for thousands of people.  VYVO warmly welcomes Esther Padilla as one of the newest members of the VYVO leadership family.
About Vyvo Inc
We are a technology and network marketing company, using technology to create innovative solutions for the personalized health and wellness market worldwide. We are focused on developing consumer-oriented products that protect, monitor and empower people to improve their health through daily knowledge and informed choices. We create customized solutions to help our customers manage their most important asset, themselves and their life.
Our technology driven mission matches our network marketing soul. We are all about expanding concepts of personal growth and development, not only focusing on health but also on prosperity and economic wellbeing. For more information, please see www.vyvo.com