ALIVE Foundation Reached Out To Families In Batangas And Pampanga
March 16, 2020
By Team Business For Home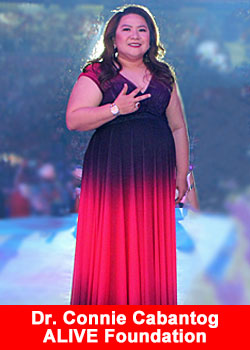 The afternoon of January 12, 2020,  hundreds of people, children and adults alike, witnessed and experienced the 'wrath' of Taal volcano.  Taal's last  recorded eruption was in October, 1977.
Classified as a phreatic eruption by the Philippine Institute of Volcanology and Seismology (PHIVOLCS). Taal aggressively spewed ash all over Tagaytay, Batangas , Rizal,  Metro Manila, parts of Central Luzon and  Pangasinan.  Severe volcanic  quakes were felt in the Batangas area.  Classes were suspended , work schedules and flighs were cancelled.
Thousands of families were affected and displaced  and millions worth of damage was caused  by the eruption. With its ardent commitment to serve and touch many lives,  ALIVE Foundation, the charitable arm of Alliance In Motion Global, Inc.  hastily organized an outreach  activity lend a hand to the affected communities.
Last January  15, 2020,  ALIVE  Foundation Chairperson Dr. Connie M. Cabantog and management, company staff and top leaders  made their way and visited several remote communities in Sto. Tomas, Batangas.   Wearing face masks to protect them from the dust and ash debris, the group left  Manila very early and visited four evacuation sites in Sto. Tomas, Batangas and  distributed mats, blankets, groceries and other essentials to 1,250 families.
Another outreach was held at the Aeta community in Porac, Pampanga last February 7, 2020 to  commemorate the birthdays of Visionary President and CEO Dr. Eduardo Cabantog and the late Chief Finance Officer Mr. Francis Miguel.  Dr. Connie Cabantog and her group spread joy to the children and distributed groceries, mats, slippers and other essentials to 500 families from the Aeta community.
The joy, grateful smiles and the countless "thank yous" from the children and the families are enough motivation for AIM Global and ALIVE Foundation to continue helping and supporting communities with genuine compassion.
ABOUT AIM GLOBAL
Founded by Network Marketing icons Raymond "John" Asperin, Engr. Francis Miguel and Dr. Eduardo Cabantog in 2006, Alliance In Motion Global (AIM GLOBAL) is the leading direct sales network marketing company in the Philippines. The company markets and distributes top of the line Nutraceutical supplements, weight loss wellness products, personal care and skincare products, functional beverages and premium lifestyle products.
The company is a proud member of MLMIA (Multi-Level Marketing International Association) in USA, founding member of Direct Selling Association in Pakistan (DSAP) and Direct Selling Education Institute (DSEI) of Dubai, UAE.
AIM Global has 130 business center offices in the Philippines and has global offices in 20 countries namely Hong Kong, Singapore, Taiwan, Brunei, Papua New Guinea, UAE, Bahrain, Kuwait, Pakistan, Nigeria, Ghana, Kenya, Uganda, Togo, Ivory Coast, Cameroon, Tanzania, Rwanda, and the Solomon Islands.
AIM Global is categorized as "+AAA" business opportunity, Top 100 Solid MLM Direct Sales Company 2018-2019, Top 10 Momentum Direct Selling Companies 2018-2019, Top Direct Selling CEO 2014-2019, Founder/Director/CEO and Visionary President Dr. Eduardo Cabantog as one of the Ambassadors of Network Marketing – Hall of Fame 2018 by Business For Home, top awardee in the Direct Sales category of Asia Pacific Entrepreneurship Awards 2017, winner at the International Innovation Award 2018 for its revolutionary Daily Payout System, and one of the awardees for Asia's Best Performing Companies at the 6th Asia Corporate Excellence and Sustainability (ACES) Awards 2019.