Amway 2019 Sales Down 5% To $8.4 Billion
March 2, 2020
By Team Business For Home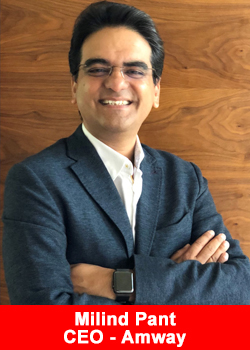 Amway, the world's largest direct seller, today announced sales of $8.4 billion USD for the year ending Dec. 31, 2019, down 5 percent from 2018 figures. China, Amway's largest market, saw significant declines in the overall direct selling industry, yet Amway was able to improve market share and move up a spot to become the country's number two direct selling company.
"In 2019, we celebrated our 60th anniversary and now we are looking ahead to our 70th to unleash entrepreneurship for the next generation," said Amway Chief Executive Officer Milind Pant.

"Amway is already aligned with some of the biggest global trends, like the gig economy, increasing consumer demand for product experiences that support a healthy lifestyle, and the rise of communities on social media that connect people with similar passions and interests.

Our new multi-year growth strategy and investment plan will help ABOs capitalize on these trends to support their customers."
Amway is investing more than $500 million in 2020 in digital platforms, product innovation and independent Amway Business Owner (ABO) compensation, all to drive global enterprise growth and enable ABOs to better meet the needs of their customers.
One new digital platform that already is helping ABOs provide a more compelling customer experience is the 3E "Easy, Early, Earning" platform in China. 3E focuses on selling products through social commerce, in partnership with global technology leader Tencent. Through the platform, ABOs receive commissions from new customer referrals and new customers can receive product discounts by sharing with friends. Amway is investing in multiple digital capabilities to globally roll out similar programs.
Another investment area for Amway is Core Plus+, a new incentives program that increases the earning opportunity for those who choose to start their business with Amway and rewards best practices in building a strong, sustainable business. Benefits include more earning potential, more consistency and more predictability so ABOs can set goals and make plans for more than just the year ahead.
The company also will continue to invest in traceability in nutrition and beauty through natural ingredients, especially the botanicals grown on its own certified organic farms – nearly 6,000 acres of certified organic farmland in the U.S., Mexico and Brazil, where Amway grows, harvests and processes plants using sustainable farming methods. These plant ingredients have long been a key differentiator for Nutrilite supplements and will also prominently feature even more in Artistry skin care.
A greater focus on product innovation will bring a range of new on-trend products that are especially appealing to those under 35. Recent launches include:
n* by Nutrilite, launching in Korea, Japan, China and the U.S. and addressing the top concerns of young consumers such as sleep, stress, focus, vision and immunity.
Artistry Studio, a limited-edition collection of on-trend makeup and specialty bath and body products inspired by cities from around the world. The brand has launched three collections featuring New York City, Paris and Bangkok, with the next launch focusing on Tokyo this spring.
CBD Cream and CBD Cooling Spray, just launched in the U.S. and the first of similar CBD products slated to launch in other markets in 2020.
Among Amway's top 5 markets, Thailand leads the way in fast, sustainable growth. Highlights from Thailand include the launch of BodyKey by Nutrilite, a personalized weight-loss program that blends products with natural ingredients and a mobile app, presenting ABOs with the opportunity to build fitness-focused communities where members can share tips, track goals, exercise together and hold each other accountable.

"Amway is investing in a future both online and offline. We're making it easier than ever for people to build a business of their own in areas they may already be passionate about, like health and beauty. All powered by social and digital tools that help them reach customers more efficiently and make online shopping simple,"
said Pant.
"We will get there by building on our strengths – the entrepreneurial spirit of ABOs, the vibrant communities they've built, our seed to supplement product development expertise and the values established by Amway's founding families. Our purpose remains helping people live better, healthier lives and we are committed to doing just that for the next 60 years and beyond."
The nutrition category of vitamins, dietary supplements and weight management products continued to be the top sales category for Amway, representing 54 percent of sales, up one percent from 2018. Beauty and personal care were 25 percent of sales, down less than one percent from last year.
Amway's top ten markets include China, the U.S., Korea, Japan, Thailand, Taiwan, India, Russia, Malaysia and Hong Kong. To access all the latest facts and figures about Amway, visit amwayglobal.com/newsroom.
About Amway
Amway is a family-owned, $8.4 billion consumer goods manufacturer and direct selling company based in Ada, Michigan, USA that is committed to helping people live better, healthier lives. Top-selling brands for Amway are Nutrilite™ vitamin, mineral and dietary supplements, Artistry™ skincare and color cosmetics, eSpring™ water treatment systems and XS™ energy drinks – all sold exclusively by independent Amway Business Owners.
Global sales in 2018 made Amway the No. 1 direct selling business in the world, according to the 2019 Direct Selling News Global 100. The company's annual sales figure includes revenue from direct selling operations and other business holdings.
Recommended Distributors Amway