ByDzyne Continues Global Expansion Into Colombia
March 4, 2020
By Team Business For Home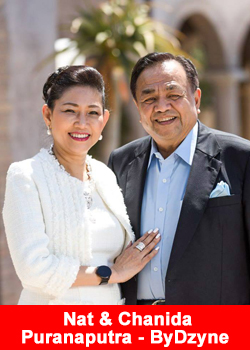 ByDzyne has embarked on a strategic global expansion strategy to capitalize on the growing international demand of their products and business opportunity. Recently, the company has announced its official prelaunch into Colombia as one of the first LATAM countries alongside Peru.
"We are dedicated to investing in scalable markets with long-term growth opportunities to generate higher levels of global market penetration,"
exclaims Sophia Wong, Co-Founder & President of ByDzyne.
Within 3 weeks of Prelaunch, Colombia already pulled in hundreds of entrepreneurs to their event, taking the already high level excitement surrounding the opportunity to a whole new level, bringing in over $700,000 worth of sales revenue.
Inevitably, it generated a strong rank advancement month, producing multiple Diamonds and above. Included are
3 Star Diamonds Patricia Tamara & Pedro Mojica, and lejandro Monroy;
2 Star Diamonds Paola Torres & Salvatore Conforti, Alejandro Arango
Diamonds
Sebastian Fernandez
Liliana Mesa & Mauricio Muñoz
Santiago Londoño
Jorge Vasquez
Laura Sánchez
Alexander Mesa
Silvia Arango & Monica Quintero
Alejandra Escobar
Johan Olivares,
Victor Franco just to name a few.
"The passion in Colombia is unmatchable. Given that passion is the fuel for success, there is no doubt in our minds that Colombia will be one of the biggest markets for ByDzyne. We were honored to part of such a powerful prelaunch,"
exclaims Chad & Nattida Chong, Co-Founders of ByDzyne.
As an innovative, multi-dimensional company, ByDzyne has already launched into technology, beauty, wellness, travel, and most recently, forex education. "The Power of Choice" is what sets ByDzyne apart, and they are excited to shortly launch a localized product specifically for LATAM.
"We look forward to continuing to provide these markets with the training and support they need to truly make the most of this opportunity, which has already been so warmly received. The sky is now the limit.,"
says Nat & Chanida Puranaputra, Co-Founders & Chairmen of ByDzyne.
About ByDzyne™
ByDzyne's multi-faceted approach disrupts the traditional industry model by first understanding that one size DOESN'T fit all.
You were born into a particular culture, with unique tastes, interests, and desires. ByDzyne™ was created with a mission to celebrate your uniqueness and empower your extraordinary potential. Our exceptional "culture-crafted" products meet distinct needs in key consumer markets, and our lucrative business opportunity was formulated to fuel your ideal lifestyle, as YOU see fit.
Our visionary leadership wanted to create an unparalleled company with your individual needs in mind, whether as a consumer or Brand Ambassador. This customizable approach is a driving force that propels everything we do and will do in the future. We are launching into not one but FIVE of the fastest growing multi-trillion dollar industries, creating one of the most explosive opportunities in the market, starting with technology, beauty, wellness, travel and now trade.
Our mission is to continue to expand our global footprint into multiple verticals to maximize your income opportunities, capitalize on trends, and gain market share in upcoming industries as they advance.
Through ever-evolving innovation, and with the utmost integrity, our experienced executive team strives to stand apart from the pack, and build a legacy you can be proud of; one you can truly call home. We are ByDzyne™. Where limitations don't exist. For more information, please visit www.bydzyne.com.
Recommended Distributors ByDzyne