ByDzyne Launches Online Marketing With Artificial Intelligence Platform
March 25, 2020
By Team Business For Home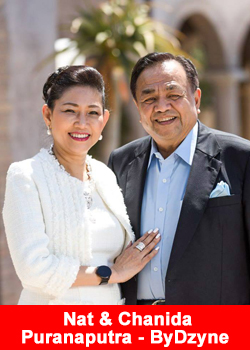 In a timeframe when terms like "social distancing" have become our "new normal," ByDzyne has taken seriously its responsibility as a conscientious member of the world business community.
The Company recently announced an outstanding new partnership with an online marketing/social media/artificial intelligence platform. 

This will enhance the business capabilities of all ByDzyne Brand Ambassadors and customers worldwide to work exclusively from home.
Even when these challenging circumstances have created obstacles and inconveniences, ByDzyne has acted decisively to maintain its position as a trend setting company by adopting this innovative marketing approach.
The Company announced this remarkable Collaboration to an audience of nearly 100 Diamond leaders from more than 10 countries around the world in an online leadership summit this past Saturday.  The excitement was tangible as these leaders learned about one of the most important trends in the home-based, local, national and international business arenas:
Online marketing, totally automated and powered by Artificial Intelligence.
ByDzyne Brand Ambassadors and customers will now be provided with a turn-key integration of a powerful social media presence and online marketing strategies.  With these state-of-the-art AI algorithms, the Company's team members are perfectly positioned to attract interest from their target market audience into the ByDzyne business categories.
These Diamond leaders could already envision their new reality that sales will then convert this interest into purchases.  Additionally, customers will be able to build a cross-platform professional online presence that's essential in today's global business world.
One of the greatest benefits of this new online marketing/AI platform is its direct focus on very small businesses operating from home. With this new announcement, the Company continues to emphasize one of its premium principles, the Power of Choice, in allowing all Brand Ambassadors to follow their individual passions and interests as they build a strong and prosperous future with ByDzyne.
The release of this new online marketing with Artificial Intelligence will be released on April 4th 5pm Pacific, at the company's very first online Super Saturday held on their official facebook page: www.facebook.com/bydzyneofficial . They will also be releasing more verticals, tools, and promotions.
This customizable and multi-vertical approach is a driving force that propels everything ByDzyne does and will do in the future.
About ByDzyne™
ByDzyne's multi-faceted approach disrupts the traditional industry model by first understanding that one size DOESN'T fit all.
You were born into a particular culture, with unique tastes, interests, and desires. ByDzyne™ was created with a mission to celebrate your uniqueness and empower your extraordinary potential. Our exceptional "culture-crafted" products meet distinct needs in key consumer markets, and our lucrative business opportunity was formulated to fuel your ideal lifestyle, as YOU see fit.
Our visionary leadership wanted to create an unparalleled company with your individual needs in mind, whether as a consumer or Brand Ambassador. This customizable approach is a driving force that propels everything we do and will do in the future. We are launching into not one but FIVE of the fastest growing multi-trillion dollar industries, creating one of the most explosive opportunities in the market, starting with technology, beauty, wellness, travel and now trade.
Our mission is to continue to expand our global footprint into multiple verticals to maximize your income opportunities, capitalize on trends, and gain market share in upcoming industries as they advance.
Through ever-evolving innovation, and with the utmost integrity, our experienced executive team strives to stand apart from the pack, and build a legacy you can be proud of; one you can truly call home. We are ByDzyne™. Where limitations don't exist. For more information, please visit www.bydzyne.com.
Recommended Distributors ByDzyne