Top Trainer Tim Sales: Network Marketing Is Hype
March 3, 2020
By Team Business For Home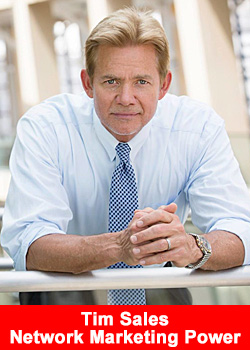 Tim Sales explains:
You might be surprised at my response when someone tells me "network marketing is hype" because I actually tend to agree.  But "hype" does not mean exaggerating. Hype is "the intensive publicity or promotion of something."
In our case, we're promoting the vision of a better future, and for that, absolutely, we're guilty.
When I was in the Navy, we got the call to go and diffuse a load of bombs on the island of Kahoolawe in Hawaii, and we were stoked to do that job.  Was our excitement hype? No, it was our vision of a fun and exciting future that was suddenly right in front of us.
Adding FUTURE to one's life is what generates enthusiasm. (Some call that hype.)
Follow me on this one… when you've got a goal out there, you begin to get excited. You start to change a lot of things:  maybe you change your habits, your mindset, your action level, your knowledge… maybe you go out and meet new people, you engage more, laugh more, wear nicer clothes.
Having a big goal gives you something to shoot for. Something to live for. You're growing. You're living.
But beware — people who DON'T want others to change will criticise this and call it hype.  But it's not. It's your future. It's enthusiasm.
In network marketing, that means increasing leads, increasing the number of people you contact, setting appointments, doing presentations, following up.  And when you serve those customers and reps, you get paid. Serve more, make more.
So I say set your goals high — like WAY high — because that's your future.
Then work on becoming the person who CAN attain that goal.  What kind of person would it take to accomplish that goal? How many people would they be talking to?  How well would they be talking to their prospects?
The people who are setting goals have future out in front of them, so they become enthusiastic about achieving that goal. That's living! Everything else is just existing.
About Tim Sales
Tim Sales is a 30-year veteran in Network Marketing. He's a million-dollar earner in multiple companies, he's been interviewed by Larry King and Grant Cardone, and now he's sharing his knowledge on how to build a successful network marketing business of your own, with real-world examples from his 30-year experience in the industry.
He's breaking down the industry into little bite-sized pieces, so you have exactly what it takes to really have success in network marketing. For more information please visit www.networkmarketingpower.com