VYVO Appoints Balaji Balu Sundari aka Bala As India General Manager And Sales Director
March 10, 2020
By Team Business For Home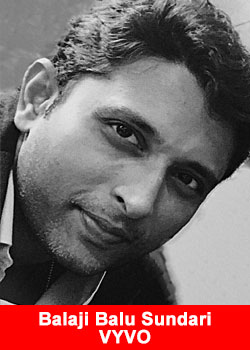 According to a VYVO press release:
VYVO Inc. has been making rapid progress in several markets, of which Asia has been at the forefront. We take this opportunity to thank all the people who have had the foresight of making life wonderful.
We have now decided to implement a proven formula of success by adopting a business model that will help our global distributors across most markets. To kickstart this rapid acceleration, we are now decisive about one of the most promising markets in the world: INDIA.
And who else better to campaign this extraordinary growth phase for India than Balaji Balu Sundari AKA Bala. Bala brings on board over 25 years of experience in sales, with not only an extraordinary track record as a top-performing distributor in several direct selling companies such as Elken and Agel, and has also served in Corporate as the AVP-Sales/Regional Head, South of Modicare Pvt. Ltd. and CEO of Noni Biotech Ltd.
Apart from an outstanding sales record, Bala is a B.E. (CS) from Madras University and an MBA (Finance and Advanced Strategy) from the reputed Manchester Business School, UK.
In the words of Mr. Fabio Galdi, CEO of VYVO the official announcement:
"Bala's unique experience of being a hands-on top direct-selling consultant, a Manchester MBA with rich management experience, easily makes him the right person to launch in the biggest democracy in the world. We are delighted to announce that we are appointing Bala as the GM of India and Sales Director. We are confident that the market will thrive under his leadership."
Despite many hurdles, VYVO has been outperforming several competitors, and Bala is all set to execute the proven business model and launch India into becoming a global force to reckon with. His personal skills make him a specialist able to bring VYVO's vision and culture to an extraordinary success in these promising markets.
We are sure that everyone who gets this news will be as excited as we are. VYVO is fully gearing up to provide an experience like never before.
About Vyvo Inc
We are a technology and network marketing company, using technology to create innovative solutions for the personalized health and wellness market worldwide. We are focused on developing consumer-oriented products that protect, monitor and empower people to improve their health through daily knowledge and informed choices. We create customized solutions to help our customers manage their most important asset, themselves and their life.
Our technology driven mission matches our network marketing soul. We are all about expanding concepts of personal growth and development, not only focusing on health but also on prosperity and economic wellbeing. For more information, please see www.vyvo.com