B-Epic President Kauri Thompson Resigns To Step Into The Field
April 6, 2020
By Team Business For Home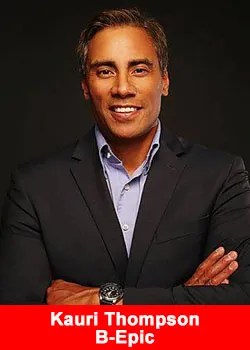 B-Epic launched in 2016 based out of the US and expanded internationally into Russia with great success.
Navigating the international markets early in their history allowed B-Epic to adapt to conditions most companies don't experience until much later. This enabled B-Epic to develop into a company poised for massive growth in the US and additional international markets.
Over the last 4 months they increased their domestic sales by $2.5 million a month and grew a Facebook Community to over 62,000 members sharing their product experiences, growing by over 1,000/day.
B-Epic has all of the excitement and growth of a start up, seeing triple digit increases domestically and internationally, without the risk normally associated with a new company while their processes and systems are that of a mature 4 year old direct sales company.
Kauri Thompson joined the B-Epic corporate team in November of 2019 to provide additional support to the growing Brand Partner culture internationally domestically. His shared vision was to bring B-Epic's mission to life by helping 80% of the world earn an additional income stream of $500-$1500 per month from home. To accomplish this B-Epic adopted a cloud-based business platform with access to 180 countries, high demand products at affordable prices (under $100/month) that don't require a college degree to understand and a simple marketing system built for the "gig"economy.
The B-Epic business model is flourishing in both healthy and struggling marketplaces by growing an online network of customers and distributors using their phones and laptops without needing experience in online marketing. Because of B-Epic's unique online and mobile business model Brand Partners are able to earn 50% of customer orders providing simple path to earning $500-$1,500 per month in their spare time while also rewarding the team builders with lucrative up front rewards, global bonus pools, check matches and volume based monthly income.
With these systems and platforms now fully in place Kauri Thompson has made the decision to transition from President of B-Epic into the field as an Independent B-Epic Brand Partner.
One of the many reasons for stepping into the field and giving up his secure position as President is due to an explosion of growth in a new team that recently came on board in the last 30 days led by several industry veterans with an average experience of 20 years who are experts at creating team culture, tools and empowering others to experience immediate success.
With the product and compensation plan fully vetted for success it's time to build the culture, community and leadership team that will grow B-Epic into a Billion Dollar international brand. According to Kauri, "There has never been a better time to help people succeed. I am confident, B-Epic's unique business platform and intelligent design will redefine what a successful company looks like in the direct sales industry, "gig" economy and online marketing."
About B-Epic
We are passionate about B-Epic being a world-class brand and business for our Brand Partners and customers. To ensure our members have the best products and business opportunity for the long term, we are committed to staying on the cutting-edge of health, science, and technology.
With decades of experience in the industry, our corporate team has successfully launched multiple lines of top-performing products generating millions and helped tens of thousands of people achieve financial independence and time freedom through online businesses.
Our goal is to help people everywhere improve the quality of their lives by providing them with a powerful, proven platform to reach their full potential. For more information please visit www.Bepic.com