Beyond Infinite Success App Generates $2 Million In Sales In 1 Month
April 24, 2020
By Team Business For Home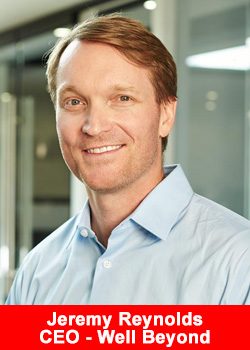 Beyond is leveraging itself to break company sales records with the Infinite Success mobile app. 
The Infinite Success app is an all-in-one resource for members to share the Beyond platform with an easy-to-use invitation module, text scripts, follow-up prompts, trackable links and videos, funnel pages, and a fully-integrated social media sharing system – to help you build your team and build a stream of income all by sharing the products and samples you love.
"It's the best app I have ever seen. Most apps have been built by tech programmers who think they know how to build an effective system.

This not only is effective from a leader standpoint, but it also gives members the data to effectively run a real business that was once only available on the corporate side."
said Dennis Kong, Executive Chairman Member of Beyond 
This app is designed to help members share products and opportunities in an effective way, but also to receive ongoing training and a way to hold themselves accountable. That's why the onboarding process of the app asks members to indicate their lifestyle interests, goals, and commitment level and then the app creates a customized and unique plan of action just for them.
For prospect management on a level that has never been seen before, the app interface places all prospecting information on one screen so you can see who has been invited, who has viewed presentations, who has requested more information, and who has activated their membership all in one organized system complete with customizable push notifications.
"This app will create a first of its kind experience for our members. It will give our members the ability to recreate the launch phase of a new company with each new product category launched using our exclusive app,"
said Jeff Graham, Founding Member of Beyond
Content is built for you, invitations are crafted for you, and videos are tracked for you. The system keeps track of everything and notifies you of all your prospects' activity. All you need to do is pick a custom funnel offering and push 'send' – giving you the opportunity to scale your business quickly.
About Beyond
Beyond is a multi-category experience designed to give you a wide range of products and opportunities across our two main focuses – health and wealth – to create your perfect lifestyle.
Initially offering two unique branches and independent business ecosystems (tied together with a seamless rewards plan), Beyond is best understood as the sum of its parts: Beyond Wealth and Well Beyond.
With a focus on delivering truly remarkable health and wellness products, the Well Beyond system is unprecedented, reputable, and practical. Well Beyond provides a simple, uplifting, and focused way to live a healthier life with people who take pride in seeing the results and joy of others. The Well Beyond path leads to wellbeing and happiness – starting with its Best Day Ever sample program and ending with its Fearless Movement which gives people all the products they need to live a healthy, fulfilling lifestyle.
Bridging the gap between emerging digital technology products and accessibility, Beyond Wealth provides a variety of innovative wealth-building products crafted for people seeking to enhance their lifestyles. Our revolutionary digital products provide cutting-edge methods of generating residual income. With products ranging from our multi-currency wallets, to programs with device leasebacks, to discount travel portals, there is something for every entrepreneur to explore.
With these two categories, and a revolutionary mobile app designed to deliver many more opportunities in the future, the Beyond brand is one of creation – creating opportunities for all types of consumers and business-builders to seek out what works for them and build within the most effective ecosystems! For more information please visit www.well-beyond.com