Blake Schroeder CEO Kannaway Honored As Top CEO Of The Year By The IAOTP
April 17, 2020
By Team Business For Home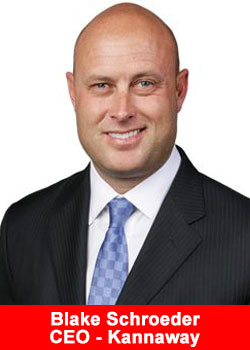 Medical Marijuana, Inc. (OTC: MJNA) (the "Company"), the first-ever publicly traded cannabis company in the United States that launched the world's first-ever cannabis-derived nutraceutical products, brands and supply chain, announced today that Blake Schroeder, CEO of the Company's subsidiary Kannaway®, was honored as the Top CEO of the Year by the International Association of Top Professionals (IAOTP).
Schroeder was selected for this award because of his outstanding leadership, creativity and dedication to the direct selling industry.
With nearly two decades of professional experience in sales, marketing and international business development, Schroeder has proven himself as a highly qualified professional and expert in the field. As a dynamic results-driven leader, Schroeder has demonstrated success not only as CEO for Kannaway®, but in every position he has held previously in his career.
As CEO of Kannaway®, Schroeder's key areas of expertise are international team development, maximizing financial performance, multifunctional collaboration, brand marketing, product licensing, strategic planning and execution, communications, negotiation, direct selling, pricing, market growth and strategy implementation.
Since Schroeder became CEO of Kannaway®, the Company's revenues have grown from $2 million in annual sales to nearly $70 million in annual sales.
Inclusion in the International Association of Top Professionals is an honor in itself, but a few members in each discipline are chosen for distinction. These special honorees are distinguished based on their professional accomplishments, academic achievements, leadership abilities, longevity in the field, other affiliations and contributions to their communities.
In 2019, Schroeder received the Gold Award for the International Executive of the Year from the Business World Golden Bridge Awards as well as a Silver International Stevie Award in Vienna for Executive of the Year – Healthcare Products and Services.
Other awards for Schroeder in 2019 included a Bronze Award for Executive of the Year – Small Companies from the Best in Biz Awards and Small Business Executive of the Year in the Life Sciences, Health, Wellness, and Nutrition category from Business Intelligence Group's BIG Awards for Business.
About Kannaway®
Kannaway® is a network sales and marketing company specializing in the sales and marketing of hemp-based botanical products. Kannaway® currently hosts weekly online sales meetings and conferences across the United States, offering unique insight and opportunity to sales professionals who are desirous of becoming successful leaders in the sale and marketing of hemp-based botanical products.
About Medical Marijuana, Inc.
We are a company of firsts®. Medical Marijuana, Inc. (MJNA) is a cannabis company with three distinct business units in the non-psychoactive cannabinoid space: a global portfolio of cannabinoid-based nutraceutical brands led by Kannaway® and HempMeds®; a pioneer in sourcing the highest-quality legal non-psychoactive cannabis products derived from industrial hemp; and a cannabinoid-based clinical research and botanical drug development sector led by its pharmaceutical investment companies and partners including AXIM® Biotechnologies, Inc. and Kannalife, Inc.
Medical Marijuana, Inc. was named a top CBD producer by CNBC. Medical Marijuana, Inc. was also the first company to receive historic import permits for CBD products from the governments of Brazil, Mexico, Argentina, and Paraguay and is a leader in the development of international markets. The company's flagship product Real Scientific Hemp Oil has been used in several successful clinical studies throughout Mexico and Brazil to understand its safety and efficacy.
Medical Marijuana, Inc.'s headquarters is in San Diego, California, and additional information is available at OTCMarkets.com or by visiting www.medicalmarijuanainc.com. To see Medical Marijuana, Inc.'s corporate video, click here.