Demond Coleman Reaches Global Rank At Total Life Changes
April 22, 2020
By Nicole Dunkley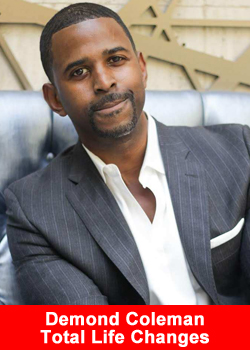 Demond Coleman is continuing to grow his Total Life Changes (TLC) business and is rising in the ranks yet again. He hit National Director rank back in January and hasn't stopped his momentum and growth since, hitting Global Rank on February 27, 2020.
He expects to gain three more National Directors, 10 Regional Directors, and 20 Executive Directors in the next four months. He also wants to ensure that his team reaches the Director rank, and offers some pointers:
"The first thing I find out is if they are teachable and coachable. Next, I help them start off by getting G5 qualified.  This helps them achieve success early in the game and increase their belief in TLC. Every small success gives them more confidence, and I like for people to know I want to help them get a return on their initial investment."
Demond encourages Life Changers to tune into the 1000 Families Movement in social media because he wants to offer insight and opportunities to see other leadership styles as well, so that they kind find one that suits their lifestyle. He also emphasizes that exposure and getting out there as a Life Changer is only the first step:
"Exposure is everything, but the fortune is in the follow-up. Letting people know who you are, what you have to offer, and following up with them to see if they are open to being a customer, distributor, or just following up to see if they liked the product."
He says his business has not changed much during the COVID-19 pandemic, but it has allowed him to be more active on his social media pages and be more sensitive to others' needs by becoming a better listener during this time. He highlights a very impactful story from one of his team members:
"If this situation didn't arise, I wouldn't have had time to talk to her. She was in a severe car accident where she had to learn how to walk again, and right after she got better and got back to work in February, she was diagnosed with COVID-19. But when you talk to her, man, she is so resilient and optimistic, and this time has allowed me to connect with people, hear their stories, and build stronger relationships."
Demond gives Life Changers advice for reaching higher ranks, saying consistency is critical:
"Being consistent in their business, and while they are consistent, they should listen to personal development every day. Because business is not easy, because people are not easy. But becoming a better version of yourself, and improving how you work with people, and the process will become a lot smoother. You have to make sure you are connecting with new people, which is very important. You have to be always looking for that next person that is really wanting to change their life."
About Total Life Changes
Total Life Changes (TLC) is a direct selling company offering a diverse product portfolio of health and wellness products. Founder and Chief Executive Officer Jack Fallon created TLC 16 years ago with a single product: NutraBurst®.  Since that time, TLC has continued to develop weight loss and wellness products matched with an attractive hybrid binary compensation plan.
This allows Life Changers of TLC to be rewarded quickly for introducing new customers to its products and business opportunity. Find out why so many are saying, 'It really is different over here.' For more information, please visit www.totallifechanges.com
Get more information, facts, and figures about Total Life Changes. Click here for the Total Life Changes overview.