Ingrid Riegler From Austria Achieves Star Sapphire Rank At Vabo-N
April 6, 2020
By Team Business For Home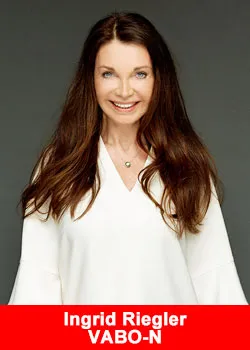 Ingrid Riegler managed to become a Star Sapphire Leader – making her the first VABO-N partner to take this step.
Ingrid stated:
"I am beyond excited and proud to reach the Star Sapphire Leader Rank for the first time in history! VABO-N enriches my life in every single aspect and has given me so much along the way in the last few years, for which I am infinitely grateful.

Every day I have the chance to challenge myself and work with so many great personalities. I have reached quite an age, but I feel decades younger. This kind of business just keeps you up to date, allows you to surround yourself with incredible people and forces you to be flexible – also in mind.

And of course, the fantastic products do the rest. I had the highest rheumatism markers one can have, and a lot of other health problems. I think it is a gift to be able to do what I really love with a product that truly helped myself!".
After her career on television, the former Austrian TV personality began to gain a foothold in the health sector and to focus particularly on nutrition. She recognized very fast that MLM was the business model which allows her to keep her high living standards.
Since then she didn't regret a single day, that she decided going her way with VABO-N – and is a part of the VABO-N family since day one.
"The possibilities that VABO-N offers are endless. Especially the newly launched Real Estate Bonus which allows me to make my dream of a second summer vacation home come true – are outstanding and keep me motivated day by day!"
The former TV host also outlines the very ambitious atmosphere throughout the whole team and the strong community feeling at VABO-N which makes her feel even more happy and proud of being a member and now the first Star Sapphire Leader – and there'll be definitely more to come, she says!
About VABO-N
VABO-N stands for "Valuable Body Nutrition". The Austria based company was founded in 2015 by Martin and Nina Dvoracek. The idea behind VABO-N is to provide people with health but also with financial security in order to have a better and a happier life and furthermore to achieve set goals and dreams.
That's why Martin and Nina Dvoracek founded VABO-N, a network marketing company offering high quality nutritional supplements to improve the lives of many.
VABO-N is currently offering business opportunities and shipping of their four products in 12 European countries: Germany, Austria, Switzerland, Slovakia, Spain, Italy, Luxembourg, Liechtenstein, the Netherlands, France, Belgium and the newest of them all – Hungary and there are even more countries to come. For more information please visit www.vabo-n.com