Kannaway Promotes Stephen Jones To President
April 14, 2020
By Team Business For Home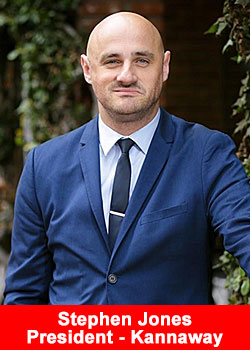 Medical Marijuana, Inc. (OTC: MJNA) (the "Company"), the first-ever publicly traded cannabis company in the United States that launched the world's first-ever cannabis-derived nutraceutical products, brands and supply chain, announced today that its subsidiary Kannaway® has promoted the Company's Chief Marketing Officer Stephen Jones to President.
"Over the past three years, Stephen has added tremendous value to our executive team as Chief Marketing Officer and we are more than confident that he has the passion and talent to take our Company to the next level in his new role,"
said Kannaway CEO Blake Schroeder.
"He has helped us create a more cohesive brand message that tells consumers and partners alike our mission and our dedication to providing world-class CBD products and education around the globe."
In this new position, Jones will be responsible for sales, marketing and field development. He will continue to build on his more than 20 years of experience in the direct sales, finance and international logistics industries to help Kannaway® continue to supply high-quality products and services to its many loyal customers.
"Working for Kannaway has been incredibly rewarding both professionally and personally,"
said Jones.
"I'm honored to receive this promotion and look forward to serving the Company in an even bigger way. The future is very bright indeed, and I'm excited to keep working with Kannaway to continue making a difference in people's lives."
About Kannaway®
Kannaway® is a network sales and marketing company specializing in the sales and marketing of hemp-based botanical products. Kannaway® currently hosts weekly online sales meetings and conferences across the United States, offering unique insight and opportunity to sales professionals who are desirous of becoming successful leaders in the sale and marketing of hemp-based botanical products.
About Medical Marijuana, Inc.
We are a company of firsts®. Medical Marijuana, Inc. (MJNA) is a cannabis company with three distinct business units in the non-psychoactive cannabinoid space: a global portfolio of cannabinoid-based nutraceutical brands led by Kannaway® and HempMeds®; a pioneer in sourcing the highest-quality legal non-psychoactive cannabis products derived from industrial hemp; and a cannabinoid-based clinical research and botanical drug development sector led by its pharmaceutical investment companies and partners including AXIM® Biotechnologies, Inc. and Kannalife, Inc.
Medical Marijuana, Inc. was named a top CBD producer by CNBC. Medical Marijuana, Inc. was also the first company to receive historic import permits for CBD products from the governments of Brazil, Mexico, Argentina, and Paraguay and is a leader in the development of international markets. The company's flagship product Real Scientific Hemp Oil has been used in several successful clinical studies throughout Mexico and Brazil to understand its safety and efficacy.
Medical Marijuana, Inc.'s headquarters is in San Diego, California, and additional information is available at OTCMarkets.com or by visiting www.medicalmarijuanainc.com. To see Medical Marijuana, Inc.'s corporate video, click here.