MLM Leader Rakesh Prasad From India Joins QuiAri
April 29, 2020
By Team Business For Home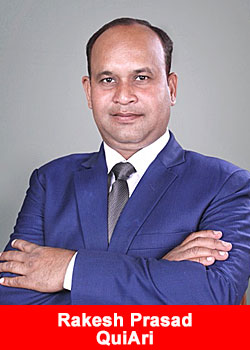 Fifteen years ago QuiAri Promoter Rakesh Prasad from India had dreams of traveling the world, making good money, starting his own business, and making his parents proud.
There was only one thing standing in his way – he had no idea how to accomplish his goals. Some friends introduced him to the world of Network Marketing as a way to help make ends meet.
"I really didn't know anything about this industry when I started, but I was open to learning and willing to work hard to accomplish my goals. I was lucky enough to find a reputable health and wellness company with good products and a generous compensation plan. I worked my way up to become one of the top Indian Associates in a global MLM company,"
stated Rakesh Prasad.
Rakesh was the first in his family to achieve such a high level of success, which allowed him to help them financially. It seemed like his future couldn't get any brighter until a once-in-a-lifetime opportunity presented itself: QuiAri. Soon Rakesh was faced with a big decision.
"I heard the buzz about this new company, QuiAri and their 90-Day Kickstart Challenge. I started doing a little research and discovered Bob Reina was the CEO and Founder. He's an absolute legend in this business. All I could see from every angle was an incredible opportunity for personal and professional growth. I made the decision to go all-in with QuiAri,"
said Rakesh Prasad.
 Joining QuiAri meant starting fresh, but Rakesh had no doubts that QuiAri's 90-Day Kickstart Challenge would be successful. The last thing Rakesh wanted was to get left behind while everyone else benefitted.
"I don't regret my decision one bit. QuiAri is the future of the MLM industry. With exclusive products you won't find on shelves and industry-first Same Day Pay, that's commissions paid within 5 minutes after every sale, I'm now part of a progressive company that's on their way to becoming the #1 in health and wellness."
After taking the 90-Day Kickstart Challenge, Rakesh lost 15 pounds. He was amazed at the simplicity and liked that he didn't have to give up the foods he loved. With a great story to share, Rakesh channeled his positive energy into promoting the Kickstart Challenge and is now one of QuiAri's top leaders in India.
"I think better health is central to human happiness and well-being. I've been taking the products and my energy levels are so much higher than what they used to be. I feel good all the time now. It's all thanks to QuiAri Shake and QuiAri Energy. It's so delicious. And I'll be honest – I'm a kid at heart. I'm really enjoying chocolate for breakfast every day," said Rakesh Prasad.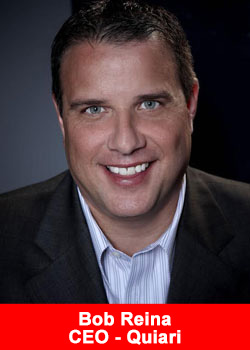 QuiAri opened for business in October 2019 in over 100 countries worldwide, however India has emerged as one of its fastest growing markets. Both Bob Reina, the CEO and Founder of QuiAri, and Rakesh believe we are only seeing the tip of the iceberg.
"Last week we removed all Promoter fees, so someone can become a Promoter for free today, start promoting the 90-Day Kickstart Challenge, and earn Same Day Pay when they make a sale. That's commissions paid in just 5 minutes. In India, and really everywhere in the world, this can be life-changing. My mission when I started this company was to help people live better. Rakesh joined QuiAri at the perfect time. He's now healthier, earning extra income, and helping his friends and family do the same,"
stated CEO and Founder Bob Reina.
Rakesh is loving all of the new, exciting resources that help him promote his business globally. From Opportunity Presentations available in multiple languages to a free state-of-the-art mobile app, he has the freedom to work from anywhere, while staying connected 24/7 to his growing team.
"QuiAri's leadership team has put a lot of thought into what Promoters need to grow their business and set us up to succeed. I don't have to think about marketing my business, preparing presentations, or chasing down my check. My entire day can be focused around cultivating new relationships with Promoters and Customers. I can't think of another company that does all that,"
said Rakesh Prasad.
 More incentives appear to be on the way soon as QuiAri is gearing up to make a big announcement about their Compensation Plan on Thursday. Rakesh noted that communication between corporate and the field has far exceeded his expectations.
"We are in constant contact with the executive leaders. In fact, Bob has been hosting weekly live broadcasts featuring exclusive trainings, updates, and more. I'm learning directly from a multi-million-dollar earner and he isn't holding anything back. That alone makes my decision to join QuiAri worth it," said Rakesh Prasad.
About QuiAri
QuiAri provides life-changing opportunities that empower people to feel their best so they can live their best. Their breakthrough health and wellness products are made from an exclusive extract of the maqui berry, the world's new number 1 superfruit. Plus, QuiAri offers opportunities to receive Same Day Pay just by sharing their products with others. Try. Love. Share!
To learn more about QuiAri, or to get in touch with a Promoter, visit QuiAri.com.
These statements have not been evaluated by the Food and Drug Administration. These products are not intended to diagnose, treat, cure or prevent any disease.
Income Disclosure Statement
Please note the QuiAri business opportunity offers unlimited income potential. However, QuiAri makes no guarantee of financial success. Success with QuiAri results only from successful sales efforts, which require hard work, diligence, skill, persistence, competence, and leadership. Your income will depend upon how well you exercise these qualities.
 As QuiAri is in its first year of business operations, we do not have sufficient statistical data to prepare complete, first-year income disclosures. A more detailed survey will be conducted after our first year of business. If income projections were presented to you prior to your enrollment, such projections are not representative of the income, if any, that you can or will earn through your participation in the QuiAri Compensation Plan.
Recommended Distributors QuiAri