Rain International's Seeds for Change Foundation Makes A Difference
April 22, 2020
By Team Business For Home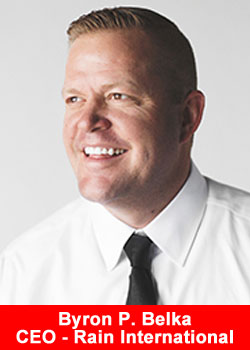 It's always inspiring to watch as bigger companies turn outwards and give back during times of need.
Rain International is one of those companies, making the most of these difficult times by focusing on the individual. They've been providing support, food, and service for thousands of people affected by this global crisis.
Giving Hope In Uncertain Times
Alongside their non-profit organization, the Seeds for Change Foundation, Rain International has been giving back freely, and it shows,
Of this concerted effort for good, Byron Belka, the CEO and founder of Rain International, said:
"We have to remember that individuals are at the core of everything we do and are. The growth and goodness of Rain are completely dependent upon people, doing their best, sharing their stories, and giving back to the friends and family.

We felt that, if we could reflect the generosity they've shown is in small part, we'd be doing something worthwhile. Giving back isn't just necessary, it's part of who we are."
They began by providing Meals on Wheels for thousands of individuals who are considered "high risk." This lifted and supported communities all around the nation. Next, they moved their vision to a more global scale, and with the help of Musana, they were able to provide food for those on the African Continent. Beans and rice were included with ever box of product delivered, helping feed less-fortunate families.
Melissa Sevy, President of the Seeds for Change Foundation said:
"Our company's goal has always been to provide opportunity where it never existed. In Rain, we've found an ally that allow us to perpetuate our work and expand it our reach. We're incredibly grateful to be partners with them, especially during these uncertain times."
Though their gestures of charity seem small, the hope that they've been able to create is enormous. We can only hope that other companies can follow suit and help the communities around them. Because, at the end of the day, it is up to us to make a difference.
About Rain International
Rain International is the original creator of seed-based nutrition. Our experts have gone to the source of plant nutrition to formulate products proven to support healthy lives.
Rain International is more than the products we sell. From the beginning, we set out to make changes to improve the world around us starting with the health industry and moving beyond its borders into global sustainability, education initiatives, elevated lifestyles, and more. We believe that the ultimate human experience we all crave is within everyone's reach, and we don't mind leading the way. For more info please visit www.rainintl.com.
Recommended Distributors Rain International