Top South African Networkers Kirsten and Samantha Pearse Join with Zinzino
April 16, 2020
By Team Business For Home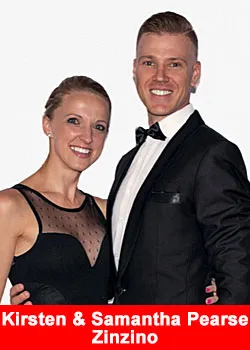 Kirsten and Samantha Pearse, acclaimed networkers in South Africa, have joined Zinzino, with the immediate focus of launching the Swedish based company in South Africa.
"We know that this strategic relationship will impact many people on the continent of Africa and across the globe.

It is that goal of truly impacting people, by inspiring change, that brings leaders like Kirsten and Samantha into alignment with Zinzino. We could not envisage a better couple to be leading the charge of Zinzino into Africa."
says Dag Bergheim Pettersen – Zinzino CEO
With over a decade of successful experience as full-time networkers based in South Africa, Kirsten and Samantha have developed a global reputation, proving what this incredible industry has to offer. The Pearse's have built and supported high-performance teams across the globe, racking up an extensive travel regime, and have become known for their unmatched work-ethic and how they endeavour above all else to be leaders who lead and build with character and integrity.
"We have a passion for helping others truly realise the significance they have inside of them," says Kirsten. "The NWM industry has been amazingly generous to us and our family, and because of that, we have a burning desire to pay it forward by helping those who partner with us to achieve their goals and dreams. We want our two children to see every day, tangibly, that you can change your own life, and, as importantly, the lives of others at the same time."
The Pearse's alignment with Zinzino comes at what they believe is a critical time in the industry.
"With NWM in the limelight more than ever before, it is vital that we, as leaders, continue to make the push towards ensuring that we adhere to the requirements of regulators. Our heads can't be buried in the sand anymore. We know what needs to be done and we need to do it before it is too late!"
"Having a couple as talented as the Pearse's joining the Zinzino Team is a testament to where the future of Zinzino is headed. Their calibre and reputation have resulted in great success in the network marketing industry, but we know the passion that truly drives them is a deep-seated dedication to serve and help others."
stated Ørjan Saele – Zinzino Founder & 1 Star Global President
Zinzino's customer-first business model, a compensation plan that truly aligns with that model, and its very impressive test-based nutritional product lines, are the main factors that drew Kirsten and Samantha to Zinzino.
As an internationally certified nutrition coach and wellness expert, Samantha says Zinzino's product offering is exceptionally appealing, particularly when it comes to the ability to independently and scientifically test the product's effectivity.
"We live in a time where people are looking for substantiated proof that what they are consuming is working for them, hence the rise in precision testing and supplementation.

I believe Zinzino is on the cutting edge of this latest trend in an already booming, and yet still rapidly growing, trillion-dollar industry. Being a part of that trajectory is an opportunity we cannot miss. In addition to the impact that such technology can have on the wellness of individuals on a continent like Africa, it is the ideal partnership,"
says Samantha.
"We have been amazed at the support we have received from our upline team and the corporate leadership in our short time with the company. We know, undoubtedly, that Africa is yet to reach its heights in the networking industry; and we believe that together with Zinzino we will be an integral part of the writing of that story," says Kirsten
ABOUT ZINZINO
Headquartered in Gothenburg, Sweden, Zinzino is a direct-sales health and wellness company, focusing on long-term prosperity through its signature Balance Oil range and skincare products. The company also owns Bioactie Foods.
Zinzino operates throughout Europe, North America and, as of next month, Australia. Zinzino have over 120 employees worldwide, with offices in Sweden, Latvia, Norway, USA and Australia. For more information please visit www.zinzino.com
Recommended Distributors Zinzino