Velovita Launches Flagship Product
April 28, 2020
By Team Business For Home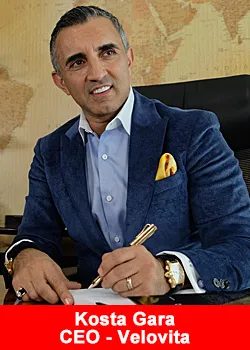 Velovita Launches Flagship Product that Boosts the Brain for Success in Business.
With mental health awareness on the rise and with so many companies focused on weight loss and beauty, Kosta Gara and Jeff Mack saw the void of cognitive supplements and education on one of the most important organs of our body – the brain. They knew that they were on the right path to giving people hope and a chance to build with a company that focused on feeding the mind in every way, every day.
"Feed your brain, fuel your mind."
says Kosta Gara, Founder & CEO.
Synergistically perfect and on time, Velovita came to fruition as a company that was heavily focused on personal development to assist with the inner and mental well-being of people. Coupled with their flagship product, Brān Reimagined, pronounced [breyn], which is a premium stacked nootropic with leading-edge nanotechnology – which assists in elevating mood and creativity to help people get out of a scarcity mindset and give them hope for a brighter and more stable future.
"The best things in my life have been guided or made better by peers and mentors that have encouraged positivity and proactivity. A goal for me is to do the same for others."
stated Jeff Mack, Co-founder & President.
With the fortunate alliance of two industry powerhouse development firms – both with global footprints and with over 90 years of UBER success in corporate and distributorships, this joint venture has equipped Velovita with full access to unlimited resources from pharmaceutical laboratories to global logistics, from AI-driven technologies to world-class video productions and everything else in between.
What would normally take other companies years to launch, took Velovita's team merely months to achieve, equipping their Members with all the tools as if it were already a multi-million dollar company. Headquartered in Florida and being 100% debt-free has helped to empower Velovita with a global infrastructure of offices around the world housing thousands of dedicated employees catering to the direct sales phenomenon.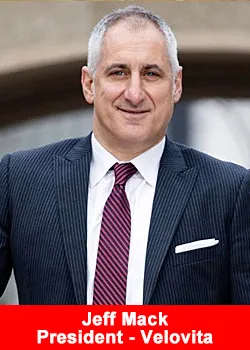 Ensuring that people didn't miss out they created 3 exciting phases of their pre-launch to their soft launch this May 5th so that everyone had a fair chance.
They offer pre-enrollment Members sample packs (V-Packs) allowing them to get a head start and experience the benefits of their product even before launching, and it's been a huge success with over thousands sold in one day during their pre-launch phase two.
Already hosting weekly online community support gatherings and training bringing people together, already creating a massive online community, with their leading-edge brand that provides to its Members an opportunity to monetize in two giant markets, the 192 billion dollar Direct Sales market and the astonishing 5.2 trillion dollar e-commerce system. They are already set to launch in 2 other countries this year.
About VELOVITA
Founded on 90+ years of corporate and field success, VELOVITA is set to become a global leader of innovation in the field of Nanoceuticals, community expansion, support, social selling and education for the new world entrepreneur. Their mission is to provide an ecosystem of inspiration, education, and life enrichment. Velovita has a singular focus on the individual to increase their daily performance both mentally and physically.
Those who signed up on April 5th for the pre-launch phase 1 will be able to purchase a 5-day sample pack on April 20th and in case they need more of it, again on April 25. The official soft launch will take place on May 5th at 5:55 PM and the official grand opening launch will be held in Las Vegas on September 25th by invite-only.
For more information on VELOVITA, please visit Velovita.com or Velovita's Facebook page. You may also contact us at [email protected] We know you'll #LOVIT!
Recommended Distributors Velovita