ByDzyne Announces Collaboration With Online Marketing Powerhouse Royaltie.AI
May 16, 2020
By Team Business For Home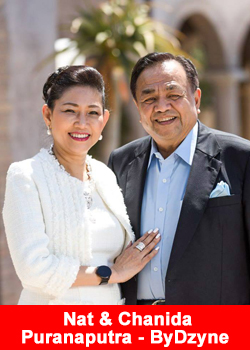 ByDzyne is on the move again with a dramatic new enhancement to their multi-vertical business model. In a world where an effective online presence is required for short and long-term business viability, ByDzyne has captured a significant competitive advantage through this new strategic collaboration with Royaltie.AI. The iconic founder of Microsoft, Bill Gates, said it very succinctly, "If your business is NOT on the internet, then your business will be out of business."
Chanida Puranaputra, ByDzyne's Chairwoman and Co-founder, stated clearly her confidence,
"There is no other platform that can offer our Brand Ambassadors such innovative AI-powered marketing capabilities. Our collaboration with Royaltie.AI is perfect, especially given today's health and economic realities.

Our strongest passion is to enhance the marketing capabilities of even very small businesses because they are such an important part of every society's economic foundation."
Royaltie.AI has perfected a sophisticated, yet simple, marketing platform which is designed to give small business owners and self-employed entrepreneurs a completely integrated, fully automated, and AI-powered online marketing presence. With this new business relationship between ByDzyne and Royaltie.AI, the masses of small businesses can now take full advantage of the most effective onlinemarketing strategies, using machine learning, to allow even the smallest of businesses access to the technology that will help them succeed.
In an expression of confidence, Royaltie.AI CEO, Justin Belobaba said,
"We are excited to begin supporting ByDzyne's Brand Ambassadors and we recognize the enormous potential that comes with their expert sales, marketing, and business development capabilities. This is our biggest geographic expansion to date, thanks to ByDzyne's incredible worldwide reach."
With ByDzyne leading the way into the pioneering and innovative frontiers of "new generation" network marketing, the result is the first all-in-one online marketing platform powered by artificial intelligence. Access to these business-expanding strategies can be completed in literally 30 seconds with the Company's newly introduced "3-click Marketing" system that unlocks the tools and functionality you need to build a cross-platform professional online presence.
The product/service created through this collaboration is called simply "OMA" (Online Marketing with Artificial Intelligence) and it allows all users to manage online marketing tools—business websites, blogs, SEO, social media posts, email campaigns, and leads—-all in one place. OMA also creates optimized
and dedicated landing pages that attract the target audience and connects them with a focused and authentic interest under the desired business category rather than leaving them to wander aimlessly through websites full of distractions.
With a full commitment to relentless simplicity, OMA is as easy as logging in, choosing your category, and then the AI will provide the user with the images, blog content, and targeted ad recommendations. All this at the tips of your fingers with only 3 clicks! With this level of simplicity, plus the absolute necessity of an online business
presence, ByDzyne's targeted customer base now expands by millions of people throughout the world.
In this way, ByDzyne is becoming the powerhouse voice for small business owners which form the backbone of every national economy around the planet. Through focused content and the merging of technology with personalization across the spectrum of digital and social platforms, every level of entrepreneur, including the smallest of businesses can now afford to look like a million bucks with OMA.
About ByDzyne™
ByDzyne's multi-faceted approach disrupts the traditional industry model by first understanding that one size DOESN'T fit all.
You were born into a particular culture, with unique tastes, interests, and desires. ByDzyne™ was created with a mission to celebrate your uniqueness and empower your extraordinary potential. Our exceptional "culture-crafted" products meet distinct needs in key consumer markets, and our lucrative business opportunity was formulated to fuel your ideal lifestyle, as YOU see fit.
Our visionary leadership wanted to create an unparalleled company with your individual needs in mind, whether as a consumer or Brand Ambassador. This customizable approach is a driving force that propels everything we do and will do in the future. We are launching into not one but FIVE of the fastest growing multi-trillion dollar industries, creating one of the most explosive opportunities in the market, starting with technology, beauty, wellness, travel and now trade.
Our mission is to continue to expand our global footprint into multiple verticals to maximize your income opportunities, capitalize on trends, and gain market share in upcoming industries as they advance.
Through ever-evolving innovation, and with the utmost integrity, our experienced executive team strives to stand apart from the pack, and build a legacy you can be proud of; one you can truly call home. We are ByDzyne™. Where limitations don't exist. For more information, please visit www.bydzyne.com.