ByDzyne Launches Doctor-Formulated CBD Products
May 10, 2020
By Team Business For Home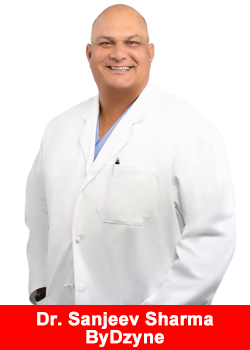 With the worldwide market for CBD products exploding day-by-day and week-by-week with millions of new consumers, it is expected that this market sector will be worth a whopping $22 billion by 2022.
ByDzyne earlier introduced to the world marketplace a phenomenal set of CBD tinctures and a balm, under the brand name, ALLUR. This name is reflective of the ByDzyne commitment that these products are uniquely powerful and efficacious in helping consumers to become "ALL YOU ARE." Adding to their product line, they are now introducing a travel-sized selection of ALLUR Sleep and Goodbye Stress. The ALLUR products are currently offered in the USA and Japan with ongoing product registration formalities under way for all other ByDzyne markets.
Among the most important and ground-breaking characteristics of the ALLUR CBD line is that these products are the result of a sophisticated doctor-formulated success story.
The genius physician responsible for these formulas is Dr. Sanjeev Sharma who is also ByDzyne's Chief Scientific Advisory Board Member. Dr. Sharma's expertise and reputation is known throughout the world. He is a board-certified heart surgeon with deep experience in cardiopulmonary surgery and has taught heart surgery techniques around the world.
In addition, Dr. Sharma is also a world-renowned practitioner of alternative healing solutions, having personally treated more than 35,000 patients specifically using CBD and plant-based terpenes. The ALLUR tinctures and balm are ByDzyne's innovative answer to "nature's revolution" and the wonderful benefits now being felt by the Company's consumers in many different parts of the world.
Each of these products has undergone extensive third-party lab testing to ensure world-class quality and efficacy. Only the highest standards of production have brought these doctor-formulated ALLUR products to the public. The hemp plants that provide the ByDzyne ingredients have been ethically harvested according to the highest environmental requirements.
In comparison to other CBD products available in the market, it is very significant to note that ByDzyne's ALLUR products contain 1,000mg per ounce of active, naturally occurring cannabinoids per product. This enhances every measurement of efficacy levels for each of the ByDzyne CBD products. This lack of dilution was intentional to increase the consumer satisfaction from the use of these powerful new products.
The use of the ALLUR products may increase serotonin levels and elevate mood, support healthy eyesight, help alleviate discomfort, promote restful sleep, support a healthy nervous system, reduce stress, promote brain health, and support healthy bones and joints.
ALLUR has been doctor-formulated with a whole-plant hemp extract, sourced in the USA, and contains a variety of naturally-occurring elements including CBD, terpenes, and other natural cannabinoids and 100% plant compounds. Terpenes are organic compounds found in the plant kingdom, including in hemp plants. They are similar to essential oils and can provide as many benefits as cannabinoids.
Each individual terpene promotes its own set of unique effects. Some promote relaxation and relief from stress, others enhance the ability to focus and mental acuity, and this influences how certain cannabinoids affect the body.
These terpenes are a key part of the ALLUR formulations and are transforming and elevating our understanding of CBD. ByDzyne is responsible for playing a key role in this essential research.
This research is showing that the various components of the hemp plant, working in synergy with plant-based terpenes, exert a substantially greater therapeutic effect than any single compound alone. This concept known as "the entourage effect" is a key part of the ALLUR formulation and allows humans to process CBD in a more natural and efficacious way. ByDzyne will continue to be at the forefront of bringing other "natural revolution" products to the Company's Brand Ambassabors and consumers around the world.
About ByDzyne™
ByDzyne's multi-faceted approach disrupts the traditional industry model by first understanding that one size DOESN'T fit all.
You were born into a particular culture, with unique tastes, interests, and desires. ByDzyne™ was created with a mission to celebrate your uniqueness and empower your extraordinary potential. Our exceptional "culture-crafted" products meet distinct needs in key consumer markets, and our lucrative business opportunity was formulated to fuel your ideal lifestyle, as YOU see fit.
Our visionary leadership wanted to create an unparalleled company with your individual needs in mind, whether as a consumer or Brand Ambassador. This customizable approach is a driving force that propels everything we do and will do in the future. We are launching into not one but FIVE of the fastest growing multi-trillion dollar industries, creating one of the most explosive opportunities in the market, starting with technology, beauty, wellness, travel and now trade.
Our mission is to continue to expand our global footprint into multiple verticals to maximize your income opportunities, capitalize on trends, and gain market share in upcoming industries as they advance.
Through ever-evolving innovation, and with the utmost integrity, our experienced executive team strives to stand apart from the pack, and build a legacy you can be proud of; one you can truly call home. We are ByDzyne™. Where limitations don't exist. For more information, please visit www.bydzyne.com.
Recommended Distributors ByDzyne