ByDzyne Takes Forex Education Platform To The Next Level
May 26, 2020
By Team Business For Home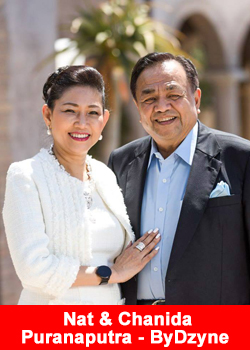 ByDzyne Announces Innovative FREE Upgrades To Forex Education Platform
The "new generation" network marketing business model of ByDzyne continues to attract top-level leadership with creative thinking, overwhelming results, and a trend-setting vision. Putting it simply, ByDzyne is introducing the network marketing of 2030 or even 2040, in 2020. The Company's multi-vertical strategy has already been a resounding success.
In only one year since the founding of ByDzyne, the work ethic shown by both the Co-founders and Brand Ambassadors has created impressive results: 1 year. Multiple verticals. 7 industries. 77 countries throughout the world. And this trajectory continues to be fueled by creative collaboration and non-stop product development and enhancements.
A cornerstone of ByDzyne's "TRAINING" vertical is its collaboration with Market Traders Institute ("MTI",) the most trusted forex technology and training organization in the world. With MTI's world class reputation and influential goodwill, created over a 26-year stellar track record, they have trained more than one million people with quality education. MTI now has an exclusive collaboration and agreement in the network marketing space with ByDzyne.
This is a great symbol of ByDzyne's commitment to partner with the best of the best in offering products and services to its Brand Ambassadors and customers. This revolution of Network Marketing allows ByDzyne and their partners to focus on their strength.
Since inception, ByDzyne has released dozens of upgrades to allow their Brand Ambassadors to excel and flourish. In that same token, so have the Smart Market Academy (SMA) product with these FREE upgrades:
This FX Leveling course shows you the strategy you could use to "level into" almost any trade. That way, if the market makes a move against your plan early in the trade but still goes on to move in your direction, you can continue to hold the position your setup detailed. This is how the pros ensure reaching their full potential, and they'll show you how to apply the same theory for your success.
Education Courses in Spanish
SMA FX Foundations Espanol
SMA Cryptocurrency Foundations Espanol
SMA Harmonic Trader Espanol
SMA Analyst on Demand Ignite Trading Room
SMA Advanced Strategies Hybrid Training Room
Harmonic Trader with Automation smartscript V1.02. Traders can now trade a fixed lot size, risk percentage, or step increase. Traders can also now use a Trailing Stop when using this automation tool.
FX Zone Scalper Indicators. Divide the market into buy zones and sell zones to identify opportunities in your analysis.
Smart Gauge Lite tool. See which direction you should be looking to trade using this gauge.
Students will be able to purchase over 100 additional tools, smartscripts, education, workspaces, and indicators to further advance their skills in the forex. We don't offer just a beginners course but we the SMA product is aim to help develop and advance your FX skills from beginner to advance.
In addition to these multiple free upgrades, ByDzyne will soon release a further development of notifications via a mobile app.
With the relentless commitment of ByDzyne to provide quality FX education to all Brand Ambassadors and customers, it's noteworthy that hundreds of hours of FX curriculum were translated into Spanish in 30 days. This is the level of commitment which all ByDzyne Brand Ambassadors can expect to receive in order to fully benefit from this forex education platform.
About ByDzyne™
ByDzyne's multi-faceted approach disrupts the traditional industry model by first understanding that one size DOESN'T fit all.
You were born into a particular culture, with unique tastes, interests, and desires. ByDzyne™ was created with a mission to celebrate your uniqueness and empower your extraordinary potential. Our exceptional "culture-crafted" products meet distinct needs in key consumer markets, and our lucrative business opportunity was formulated to fuel your ideal lifestyle, as YOU see fit.
Our visionary leadership wanted to create an unparalleled company with your individual needs in mind, whether as a consumer or Brand Ambassador. This customizable approach is a driving force that propels everything we do and will do in the future. We are launching into not one but FIVE of the fastest growing multi-trillion dollar industries, creating one of the most explosive opportunities in the market, starting with technology, beauty, wellness, travel and now trade.
Our mission is to continue to expand our global footprint into multiple verticals to maximize your income opportunities, capitalize on trends, and gain market share in upcoming industries as they advance.
Through ever-evolving innovation, and with the utmost integrity, our experienced executive team strives to stand apart from the pack, and build a legacy you can be proud of; one you can truly call home. We are ByDzyne™. Where limitations don't exist. For more information, please visit www.bydzyne.com.