Claudio Capozza From Italy Is ARIIX No. 1 Next Gen Leader Worldwide
May 29, 2020
By Team Business For Home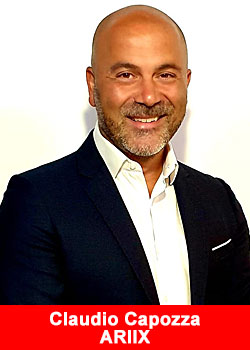 Claudio Capozza and his Italian team "Unstoppable Generation" are taking Europe by storm, trailblazing success and building their team at a truly unstoppable pace. Currently the ARIIX No. 1 Next Gen Leader Worldwide, Claudio's success is compelling.
The ARIIX NexGen program recognizes the success of Representatives who have enrolled in 2019-2020, and measures areas in growth, leadership, earnings, customer acquisition and retention. As No.1 in the world, Claudio's success speaks for itself, but it wasn't always that way.
For Claudio, it all started with a handshake. It was the Summer of 2007, and Claudio was working as a tennis instructor. He was told that a special guest would be arriving and to give him the VIP treatment.
Waiting for his VIP, he saw a black Porsche pull up, and when the man got out and walked toward Claudio, his steps seemed to float on air. It was Paulo Meucci that shook Claudio's hand that day but neither men knew the impact that event would have on their lives.
Claudio marveled at Paulo's groomed appearance, his smooth, uncalloused hands, and the overall ease with which he carried himself. Claudio wondered what kind of work he did when all the jobs Claudio had led to fatigue, pain, and sweat. Claudio felt instant admiration for Paulo and wanted to learn more about him.
Claudio's life hasn't been an easy one. Hospital visits seeking treatments to heal his ailing mother colored his childhood and took and emotional toll. At the young age of 15, Claudio lost his mother and subsequently had to quit school to supplement the family income.
A child that had grown up too quickly, at 18 he was now a man. His father left Claudio and his brother, leaving Claudio to take care of all of the living expenses. Claudio worked hard with dignity and perseverance, but it was a difficult life. Yet despite the hardships, Claudio never stopped dreaming of something better.
Suddenly, as life often does, it fast-forwarded to the future where Claudio now found himself the proud father of twins—his greatest desire! But with a family of his own now, Claudio knew that it was more important than ever to give his children a better life. That is why he will never forget that handshake.
Over the years, Paolo Meucci had become a friend, then eventually a sponsor in the network marketing industry and today he is Claudio's greatest mentor.
Claudio started his network marketing journey as a consumer and then six months later, in January of 2008, he signed as a Representative. However, the experience wasn't at all that he'd dreamed of. In the first six years, Claudio received an abundance of "no's" that lead to a series of failures.
He felt like he was doing all the right things, but he had soon exhausted his contact list and was barely making enough to get by.
But now, looking back on that painful time, he realizes the experience was crucial for his professional growth and the many lessons he learned. He learned never to give up and never relinquish his dream of a better life for his family. He knew how important being "teachable" is in this industry, and he applied that concept wherever and whenever he could.
January 2014 was the turning point for Claudio's business when he embraced social media as a revolutionary new frontier. That day, "Unstoppable Generation" was born—a team with a very specific yet simple strategy: use and consume the products, create your own transformation story and share it with as many people as possible.
After just six months, Claudio received his first double-digit check and bought the house he was renting. Then, the ultimate American dream came true for him in 2017 when he bought his first home in Florida!
After almost 13 years of business, he can now say that it was his teenage self that saved him, because no matter what, he never stopped dreaming!
Claudio often reflects on that handshake so many years ago that forged a lifelong friendship with his partner Paulo Meucci. Together, not only do they share dreams, but they create them— living in America with a passion for fast cars. Claudio says, "If I can do it, you can do it!"
ABOUT ARIIX
ARIIX is a unique and disruptive international opportunity company that creates efficacious, toxin-free products developed through collaboration with world-renowned experts and marketed through independent representatives.
The ARIIX opportunity and brands are available in Australia, Canada, Greater China including Hong Kong SAR and Taiwan, Japan, Kazakhstan, Mexico, the Netherlands, UK, France, Belgium, Ireland, Israel, Russia, Singapore, South Korea and the United States. For more information, please visit www.ariix.com or call 1-855-GO-ARIIX.