KUVERA – Record 220% Growth
May 12, 2020
By Team Business For Home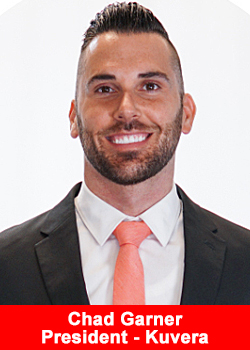 Last Fall, what seems like ancient times in a world far, far away, Investview, the parent company of Kuvera, implemented a dramatic plan for change. Chad Garner, President of the Kuvera and the Kuvera team, created a new vision taking the company down a road far less traveled.
The plan was defined within a couple of weeks and would be delivered within six weeks. This was an extremely short timeframe for any initiative, let alone one that would change the company's product offering, bonus plan, software, operational staff and physical location. In effect, Kuvera took the company down to the basics. 
What is the result of such an action? 
The proof is in the numbers. In spite of a worldwide pandemic that brought sales meetings to a halt in all regions, the company has experienced explosive growth.
220% growth in new enrollments
30% overall membership growth in the last 60 days (March & April)
54% growth in active memberships
These numbers are impressive at any time, but their importance considering the current world conditions is nothing short of epic.
Even more than the numbers is the trend behind the results.
Improved retention
New distributors and customers joining from around the world
Balanced growth across all regions
These results are exciting.  Early indicators show that all of these trends will continue to improve and nothing in the model will impede momentum.
In spite of this, Chad Garner and the team remain humble attributing the success to the Kuvera field leadership and a strengthened product offering that includes:
CRYPTOelite – New crypto product  
WALLETpro – Partnership with CoinZoom
TRAVELpro – New travel booking engine
ALERTSone – Flagship trade alert product
Kuvera will feature distributors who are making the difference and leaving an imprint on the world.
The parent company of Kuvera, Investview Inc., believes that the team was empowered and they met that responsibility with vision, fortitude and character. This is ultimately what creates legacy companies.
About Kuvera
Kuvera, a subsidiary of Investview, delivers financial education, technology and research to individuals through a subscription-based model. Kuvera provides research, education, and investment tools designed to assist the self-directed investor in successfully navigating the financial markets. These services include research, trade alerts, and live trading rooms that include instruction in equities, options, FOREX, ETFs, binary options, crowdfunding and cryptocurrency sector education.
In addition to trading tools and research, Kuvera also offers full education and software applications to assist the individual in debt reduction, increased savings and budgeting.
Each product subscription includes a core set of trading tools/research along with the personal finance management suite to provide an individual with complete access to the information necessary to cultivate and manage his or her financial situation. For more information, please visit kuveraglobal.com