MLM Leader Harikant Chaudhary From India Joins QuiAri
May 27, 2020
By Team Business For Home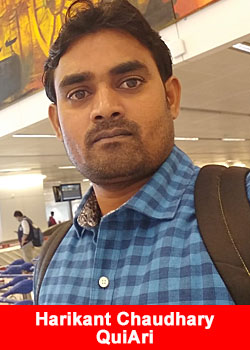 With less than a year under its belt, QuiAri has rapidly become the fastest growing health and wellness phenomenon in the world. The company has established a passionate, devoted following across the globe, and India is no exception.
Founded over 3,000 years ago, the city of Varanasi, India is famous for being the oldest continuously inhabited city in India. QuiAri Promoter, Harikant Chaudhary, is from Varanasi and part of movement to help preserve its rich culture by helping improve the local economy. He is confident that with the right opportunity, Varanasi could be India's next global hub. 
"We're an old city, but everyone has an entrepreneurial mindset.  Adapting and accepting change has kept this city thriving for over 30 centuries. I joined QuiAri because they are smashing global MLM records.

This is the opportunity of a lifetime for the 1+ million residents of Varanasi. Everyone wants to look and feel better. QuiAri products can help people achieve that goal, while offering another revenue stream for locals outside of tourism and silk products,"
said QuiAri promoter, Harikant Chaudhary.
As a 9-year MLM industry veteran, Harikant loves the direct selling industry. He believes it's the most powerful platform for anyone looking to build a global business. Although there are many MLM companies in India, QuiAri is unlike any other company he's ever encountered.
"I've been with two other health and wellness MLM companies before QuiAri. I was excited because QuiAri has one of the most aggressive compensation plans in the industry, however  I never expected the products to work so well. I dropped 13 pounds taking the 90-Day Kickstart Challenge.

QuiAri's Founder and CEO, Bob Reina, is set on changing the world with these products, and I'm 100% on board. Timing is everything in the MLM industry. With QuiAri being on the verge of becoming the next billion-dollar health and wellness brand, I didn't want to join late and risk missing out," said promoter Harikant Chaudhary.
 Word has spread all over India and the rest of the world about QuiAri products featuring the new #1 superfruit, maqui, and their proprietary maqui extract, MaquiX®. QuiAri is breaking records throughout the industry, most recently as the youngest MLM to be in the top 5 momentum ranks. Founder and CEO, Bob Reina agrees that the timing could not be any better to join.
 "QuiAri is the much-needed jolt the entire industry needed. We have the one of the highest paying compensation plans in the industry, the fastest payout in the industry, the fastest cycling binary, and we're already in over 100 countries and counting worldwide.

Look at our testimonials and you'll see why. People that didn't think they could ever lose weight or have a better quality of life are experiencing phenomenal results,"
said QuiAri Founder and CEO, Bob Reina.
 QuiAri is shaking up the industry as the only health and wellness MLM with Same Day Pay, that's commissions paid within 5 minutes after each sale. Harikant hopes others will see that QuiAri's Same Day Pay is a real way to earn extra money right away. With cost-of-living expenses rising, each year becomes progressively more difficult for people to make ends meet.

 

"The system Bob has created for QuiAri is easy for anyone to duplicate. With access to a large population of residents and tourists, Varanasi provides an opportunity to interact with people from all walks of life. But we are not the exception. Other cities in India and the rest of the world are in similar situations. If you've got short- or long-term financial goals, QuiAri is a really good way to help accomplish them. I'm currently saving for a new car and house,"
said Harikant Chaudhary.
 The company boasts the exclusive #1 superfruit, Maqui,  the number #1 maqui scientist, Dr. Juan Hancke, and the #1 formula, MaquiX®, in the world. That's on top of an executive leadership team with over 150+ years of experience. QuiAri has been furiously working to keep up with global demand. Over the last 8 months, QuiAri currently has 8+ international offices  across 3 continents under construction and more on the way. All are expected to be open for business starting summer 2020.
 "I was referred to QuiAri by a friend of mine. I'm so glad I listened to his advice and became a Promoter. This is a very exciting time for the company. Each week Bob Reina keeps unveiling new enhancements. From more opportunities to earn to better achievement bonuses to additional state-of-the-art resources, just when you think things can't get any better, somehow they do. I love it here,"
said Harikant Chaudhary.
About QuiAri
QuiAri provides life-changing opportunities that empower people to feel their best so they can live their best. Their breakthrough health and wellness products are made from an exclusive extract of the maqui berry, the world's new number 1 superfruit. Plus, QuiAri offers opportunities to receive Same Day Pay just by sharing their products with others. Try. Love. Share!
To learn more about QuiAri, or to get in touch with a Promoter, visit QuiAri.com.
These statements have not been evaluated by the Food and Drug Administration. These products are not intended to diagnose, treat, cure or prevent any disease.
Income Disclosure Statement
Please note the QuiAri business opportunity offers unlimited income potential. However, QuiAri makes no guarantee of financial success. Success with QuiAri results only from successful sales efforts, which require hard work, diligence, skill, persistence, competence, and leadership. Your income will depend upon how well you exercise these qualities.
 As QuiAri is in its first year of business operations, we do not have sufficient statistical data to prepare complete, first-year income disclosures. A more detailed survey will be conducted after our first year of business. If income projections were presented to you prior to your enrollment, such projections are not representative of the income, if any, that you can or will earn through your participation in the QuiAri Compensation Plan.
Recommended Distributors QuiAri