Parker Gevirtzman Achieves 4-Star Rank At Cloud 9 Life
May 26, 2020
By Team Business For Home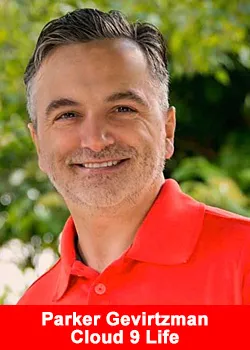 Parker Gevirtzman is currently flying high on Cloud 9 Life and he wants everyone to enjoy the ride with him. Parker, who left the corporate world for good seven years ago to raise a family, has recently ignited his entrepreneurial spirit after experiencing amazing results with the Cloud 9 Life 3-in-30 System.
"I have lost roughly 20 pounds, dropped 3 inches in my waistline, have more energy and zero cravings and people are noticing! I have never experienced anything like the 3-in-30 System. To my knowledge there is nothing else on the market like it."
Parker has channeled his enthusiastic belief in the products into an active, growing business that takes full advantage of the importance of gut health in overall wellness and Cloud 9 Life's user-friendly tech tools.
"Good health is a hot topic these days. Who doesn't want to feel better and boost their immune system? Sharing it with friends, family and people I meet is super easy with the Cloud 9 Life app. It really is a game-changer. The business is growing at a rate that I truly couldn't have predicted."
What is even more amazing about his Cloud 9 Life business is that he's building it in the country, Parker says he basically lives in the middle of nowhere and Cattle crossing street. But that isn't stopping him, Parker is pretty fired up about what Cloud 9 Life can do and he's determined to help others jump right in to greater health and financial opportunities, with no regrets.
"The Cloud 9 Life products are incredible. The results I have experienced are like nothing else on the market and the Sky's the Limit Rewards Plan is another reason I jumped right in. You have absolutely nothing to lose.
You get a discount on incredible products, you get a free Website and app, tools, training and you get to help others take control of not just their health but finances, too!"
The icing on the cake is the leadership of the company. Both the President, Chet Seely and the CEO A.K. Khalil are co-founders and both have over 40 years of experience leading multiple private and public direct-sales companies to hundreds of millions of dollars in annual revenue. Both of them have also built network marketing businesses and have been top distributors in the field.
They understand both sides of the business and it's comforting to have them leading the charge. Cloud 9 Life offers a real solution for real people to earn an income with low start-up costs, support and training, and a no caps on earning potential.
About Cloud 9 Life
Established in January 2020, Cloud 9 Life is a vehicle to help people take control of their health and their finances. Committed to providing truly exceptional products, customer service, and tools to support customer success Cloud 9 Life has made being a business owner more accessible, more attainable, and more fun than ever before.
Cloud 9 Life is a privately owned company with headquarters in Naples, FL.USA. For more information, visit Cloud9Life.com