Randi Schmitt Achieves Royal Black Diamond Rank At Elepreneurs
May 26, 2020
By Team Business For Home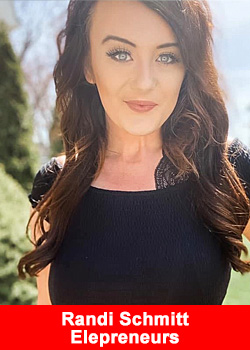 When Randi Schmitt joined Elepreneurs, she did so with the intention of giving her children a better life.
"Growing up, life was not a crystal staircase for me…I was raised by a single mother who struggled, but fought to give me a great childhood," she explains.

Randi never went to college and relied on minimum-wage jobs before finding network marketing.
The 26-year-old full-time Elepreneur lives in a small Michigan town with husband, Travis, and children, Chase and Laila.
"Even with both of us working, we still struggled to pay bills and the necessities. There was never anything left over; the holidays were always hard; and if my car broke down, it would put us so far back and give me major anxiety over how I'd afford to fix it. I was fed up and wanted more out of life" she explains.
Prior to Elepreneurs, Randi had tried six network-marketing opportunities she thought would make the difference in her financial situation, but says she never achieved success like this.
"I was a skeptic as to whether joining Elepreneurs would be any different," she adds. But within a few months, everything changed. "Our lives took a complete 180," Randi says.
"I matched my husband's income within a few months of joining and I was able to take my family on our first family vacation to Disney World." Within her first year, Randi became a six-figure earner.
"I needed simplicity," adds Randi. "I needed a company where a busy, average mom like myself could find success."
Success for Randi looks like not having to check her bank account after every purchase. The favorite part is receiving messages from Elepreneurs on her team who not only share their excitement on their successes but share how this has been such a turning point in their life.
"Prior to Elepreneurs, I failed in almost every company I've been with in the past five years," Randi explains.
"It took me five years of trying and failing forward to get to this point. When you truly have a heart for wanting to help people with a product and putting your focus on helping others succeed, your impact will be limitless."
About Elepreneurs
Elepreneurs is on a mission to help elevate your life through patented nutritional products, life-changing virtual success training, and a unique rewards program.
Elepreneurs actually builds happiness right into our powerful nutritional products. The superior, scientifically backed ingredients stimulate the happiness hormones — dopamine, oxytocin, serotonin, and endorphins — which we refer to as D.O.S.E. For more information, visit www.elepreneur.com.
Recommended Distributors The Happy Co.