Top Earner Jordan Kemper Joins Start-up Lifocity
May 14, 2020
By Team Business For Home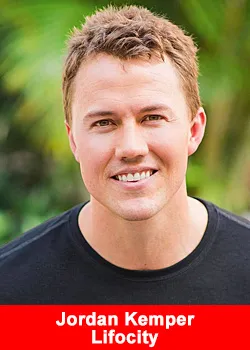 Million dollar earner Jordan Kemper stated:
Why start over? After 13 years in network marketing and earning millions, why would we choose to give up our income and start over?
After I realized I could no longer continue with my previous company, I spent the last few years focusing my efforts on building a consulting business for Fortune 1000 companies. For the first time, I created a traditional income that exceeded my network marketing income. While it was going well, I felt unfulfilled… I knew something was missing. I realized that no matter how much financial success I had, I missed network marketing.
I missed working alongside people I love every day. Leading a team. Meeting new like-minded people that often turned into some of my best friends. I missed being able to help others dramatically increase their income. Leave the job they don't like. Be able to stay at home with their kids. Have more options for their family and more freedom to choose… whatever that looked like for them!
I missed helping people have financial security incase something happened to their job or our economy (although, didn't see this situation coming…). I missed earning incredible trips with people I love.

Being a part of a community that believes in each other and helps bring the best out of one another! I missed always looking forward to team calls and events. I missed all of these and so much more.
So we started to explore joining another company… so many great options, but nothing quite fit what we were looking for or what we envisioned. And then we realized: what we were looking for didn't exist yet! This started us down a path that led to co-founding a brand new company called Lifocity.
Lifocity means "quality of life" and that's exactly what we're creating – a community of like-minded people who are committed to creating just that! We've come up with a different approach to network marketing and created an opportunity that's both relevant and lucrative in today's culture. We have a unique lifestyle brand approach that allows us to offer high-quality solutions to problems that we all face.
While we never would've guessed we would be launching in the midst of a pandemic, at only a few weeks old, we're in 37 states and growing by the day!
We're getting ready to mentor the next wave of founding brand partners as we continue to expand! Send me a message if you'd like to be included or would love more info! Thank you to all our friends and family who have been so supportive as we begin this new adventure! This is only the beginning.
About Lifocity
Our philosophy is that people are more powerful than products. We love our products and think many others will love them too, but our vision is actually bigger than what we sell. We see a community coming together because of shared beliefs and a shared passion for living healthier and happier lives.
You make choices every day about how you want to do life, so why should your business be any different? Because Lifŏcity™ is not built around a specific product or technology, you have the freedom to grow your business in the way that works best for you. We are building strong product brands that are independent from the Lifŏcity opportunity brand, so you can customize what you sell and how you sell so your own personal brand stays authentically you. For more information please visit www.lifocity.com