Top Leader Daniele Paiola Bellucci Joins Kannaway
May 22, 2020
By Team Business For Home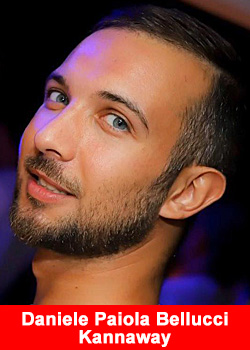 Medical Marijuana, Inc. (OTC Pink:MJNA), the first-ever publicly traded cannabis company in the United States that launched the world's first-ever cannabis-derived nutraceutical products, brands and supply chain, announced today that its subsidiary Kannaway has added of leading network marketer Daniele Paiola Bellucci to the company.
"We are very excited that Mr. Paiola Bellucci has joined the Kannaway organization and welcome him to our team,"
states Blake Schroeder, Chief Executive Officer of Kannaway.
"Mr. Paiola Bellucci's track record in the network marketing industry and entrepreneurial successes speaks for themselves."
Paiola Bellucci began his network marketing career at Kyani, and then had a breakthrough experience at Coin Space, where he quickly became one of the leading distributors of the company, building a network of over 15,000 members and generating sales of over $1M per month at the age of 25 years old. Bellucci then became a founder of Keynaut, an innovative epigenetics company that offers coffee and cosmetics products.
"I am thrilled to welcome Daniele to Kannaway. He is an inspired and inspiring leader… the perfect person with whom Kannaway Italy can grow to a significant success. It is with great eagerness that I look forward to our association!"
Randy Schroeder, Kannaway Master Distributor says.
"I am honored to join Kannaway," Paiola Bellucci states. "As an entrepreneur it is always important to work with a fundamentally strong company, but also one that makes a positive impact on people's lives. No company that I have seen fulfills those requirements like Kannaway does."
Kannaway is a rapidly expanding network sales and marketing company specializing in the sales and marketing of hemp-based botanical products. Most recently the company has expanded into new markets in Vietnam, Russia and Japan.
About Kannaway, LLC
Kannaway, LLC, is a network sales and marketing company specializing in the sales and marketing of hemp-based botanical products. Kannaway currently hosts weekly online sales meetings and conferences across the United States, offering unique insight and opportunity to sales professionals who are desirous of becoming successful leaders in the sale and marketing of hemp-based botanical products. For more information please visit www.kannaway.com
Recommended Distributors Kannaway